Back to results
Halfords Car Bulb Fitting Service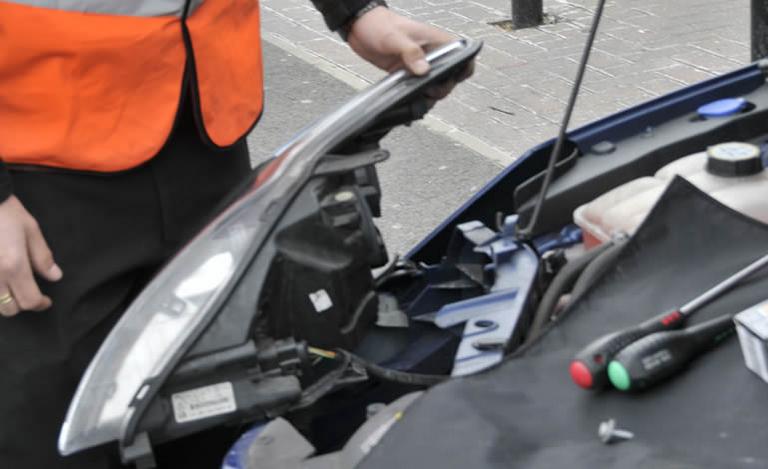 Our in-store experts can fit your lights and have you back on the road in no time.
Halfords Car Bulb Fitting Service
Whether you're setting off to work on a crisp, misty morning or returning home during the dark and dreary night, you'll need to ensure that your car's lights are in top working order. Not only do working lights help keep yourself and other drivers safe, you'll also avoid running the risk of getting a fine or failing an MOT.
Our Bulb Fitting Service
If you find that one of your bulbs has gone or is faulty, our car bulb fitting service is here for you in your time of need. We'll be able to supply you with the bulb you need, fit it in minutes, and have you back on the road in no time at all, helping to make your life easier and hassle-free. What makes it even better is that we can do it for a better price than many of the dealerships out there.
We can fit headlight bulbs from £8/€9 each.
We can fit indicator, tail and brake lights from £5/€6 each.
There's no need to book - just pop into your local store and we'll be able to sort you out.
Bulb fitting is only available on selected vehicles - please get in touch with your local store for more information.
Please be aware that all fittings are subject to pre-inspection in-store.
Types of Car Bulbs at Halfords
Our range of car bulbs covers 98% of the vehicles on the road, so it's more than likely we'll be able to help you out. Head on over to our Car Bulbs page and pop in your registration number to see what's available.
Aside from our standard headlight bulbs, we also stock the following:
Brighter
Using xenon-gas technology, we have a range of bulbs that are 50%, 90%, 120%, and 130% brighter than standard headlight bulbs. These put out a clean, white light that illuminates road signs and markings more, as well as enabling you to see potential hazards much earlier.
Longlife Bulbs
As the name suggests, these have a longer life than a standard car bulb, lasting up to two or three times longer.
All Weather Bulbs
These reduce glare, giving you a much clearer view of the road ahead when the weather takes a turn for the worse.
Heavy Duty Bulbs
As well as offering twice the life of a standard bulb, these are specially reinforced, making them ideal for those who travel long distances or over poorly maintained stretches of road.
HID Style
These put out a brighter, whiter light that's closer to daylight, as well as providing up to 30% more light on the road.
We also sell all other types of car bulbs, from indicator and brake lights to fog and interior lights.
What Else Do You Offer?
If you're in store, why not take advantage of our free car health check? As well as your bulbs, we'll also make sure everything's ok with your car battery, wiper blades, screen wash and oil levels. And if you need anything else fitting, just ask!
Shop Car Bulbs