Back to results
Turbo Trainers Buyers Guide + Video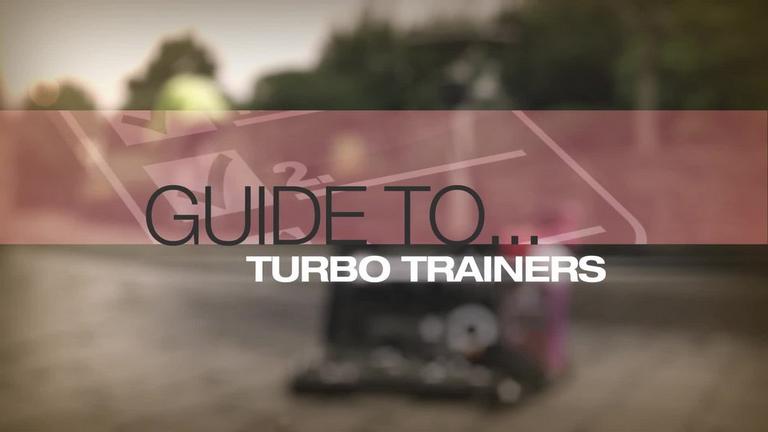 Learn about the different types of turbo trainer and how they can help you reach your training goals with this quick guide.
Turbo Trainers Buyer's Guide
When the rain's lashing down and gale force winds are blowing, it can be hard to find the motivation to get kitted up and head out for a bike ride. That's where turbo trainers come in. Effectively turning your bike into an exercise bike, they're a brilliant way to keep your fitness levels up, particularly over the winter months. With a bewildering array of indoor trainers and accessories available, this guide will give you an insight into which type of trainer is best for you.
There are several types of turbo trainer available, which all have different strengths and price points. All turbo trainers are the same at their most basic level, consisting of an A-frame that your bike's rear wheel mounts to, and some form of resistance unit. On most turbo trainers, your bike's rear wheel butts up against a roller which is connected to the resistance unit. There are several forms of resistance to choose from, depending on your budget and your needs. Below, we outline them.
Air Turbo Trainers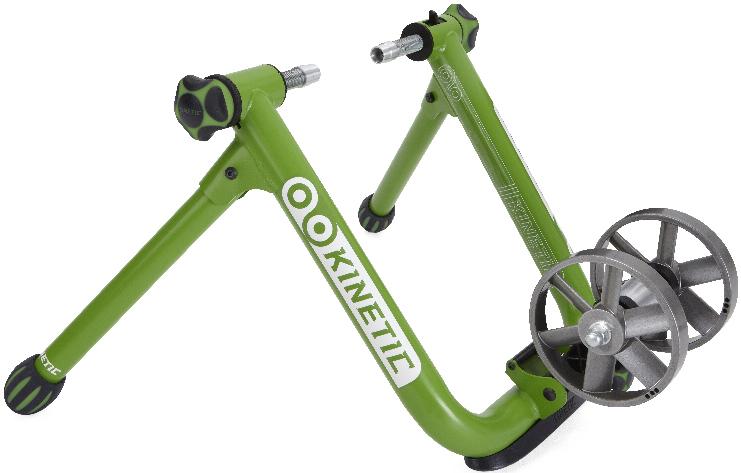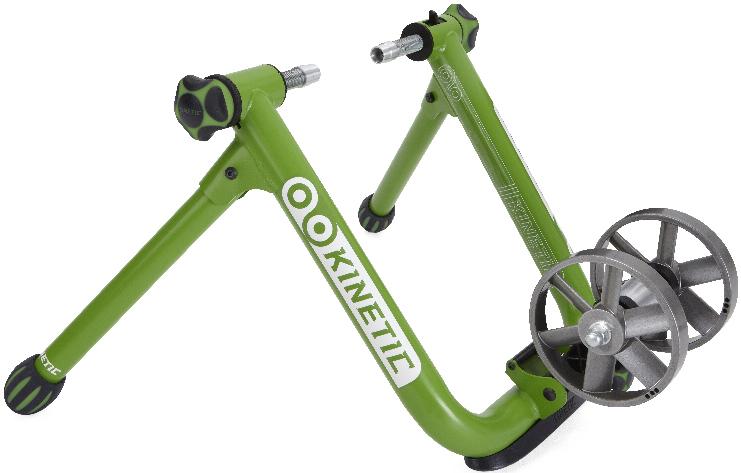 Also known as fan resistance, air trainers are usually the most affordable models and the choice of many beginners. The blades rotate and the wind they produce acts as resistance. However, they're also renowned for being pretty loud and the resistance can only be altered by changing gear on the bike. Because of these limitations, they're becoming less common.
Magnetic Turbo Trainers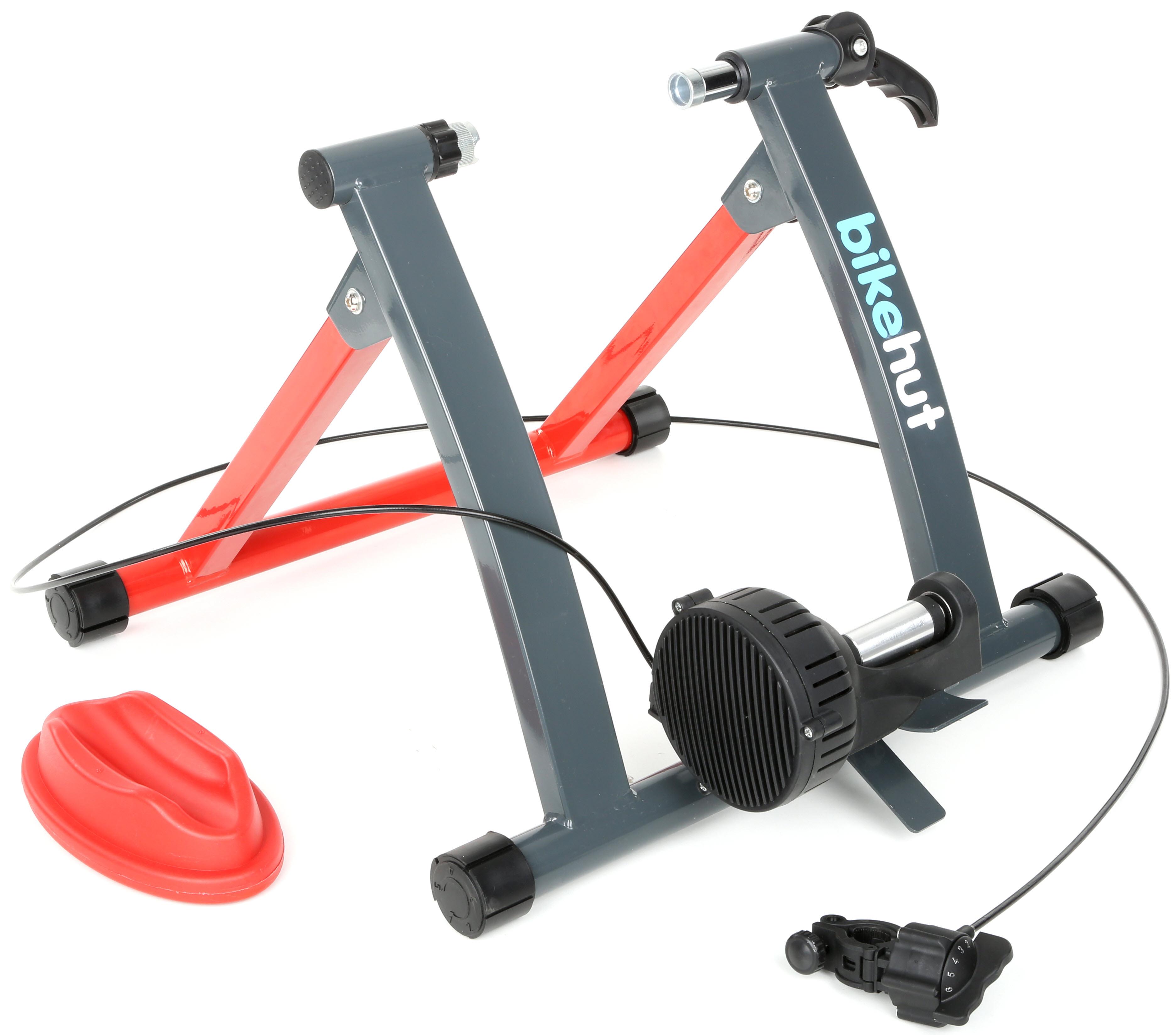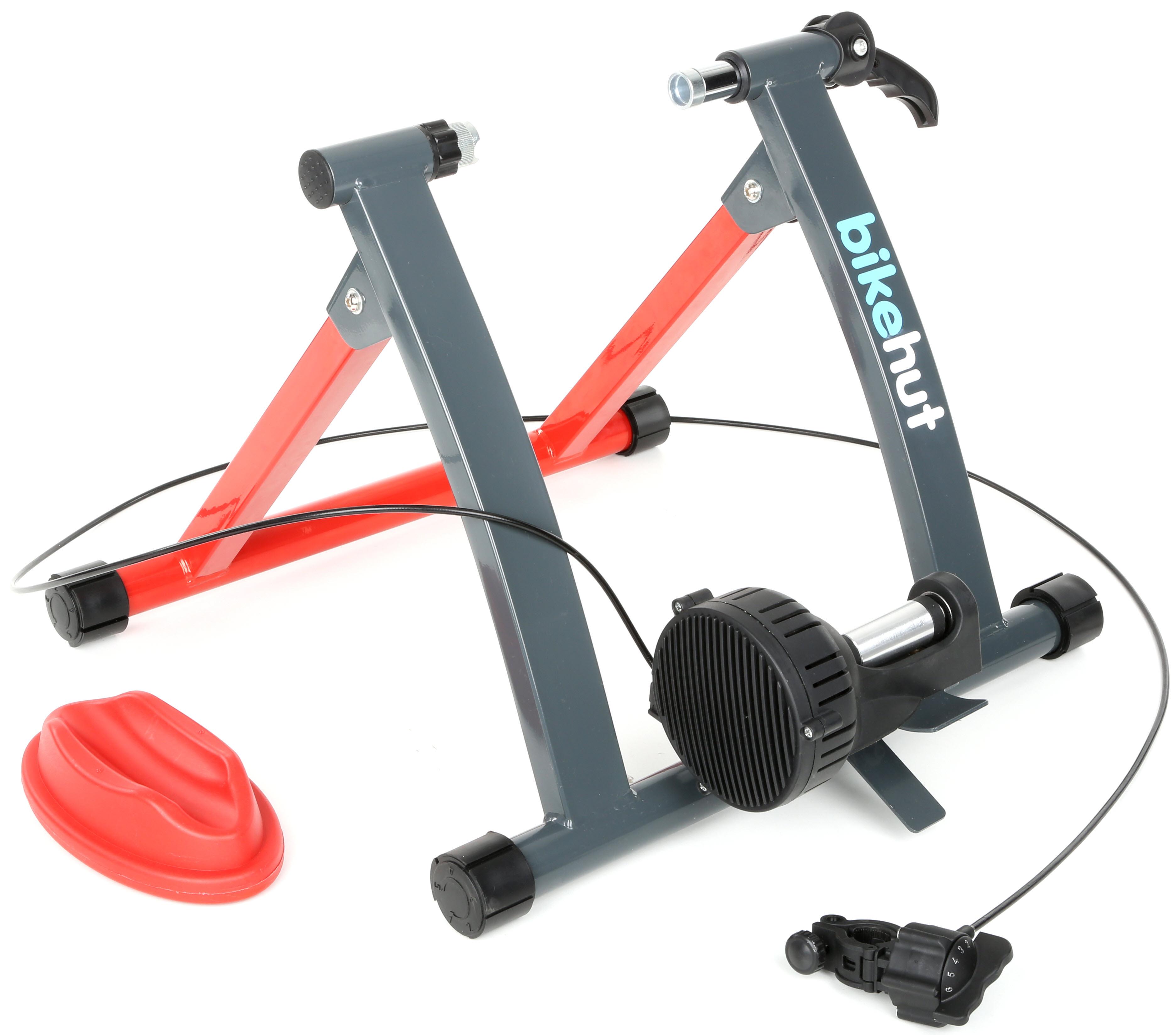 A more solid entry-level choice is a trainer with magnetic resistance, which is created by a metal plate spinning within a magnetic field. This makes the ride sensation more realistic and smoother than air turbo trainers, but not quite as smooth as fluid resistance turbo trainers. However, mag trainers also tend to be a noisy choice.
Most mag trainers let you vary resistance by increasing the magnetic force. This can either be controlled on the trainer itself (by getting off your bike and manually changing it), or by using a handlebar-mounted remote, depending on the model.
Fluid Turbo Trainers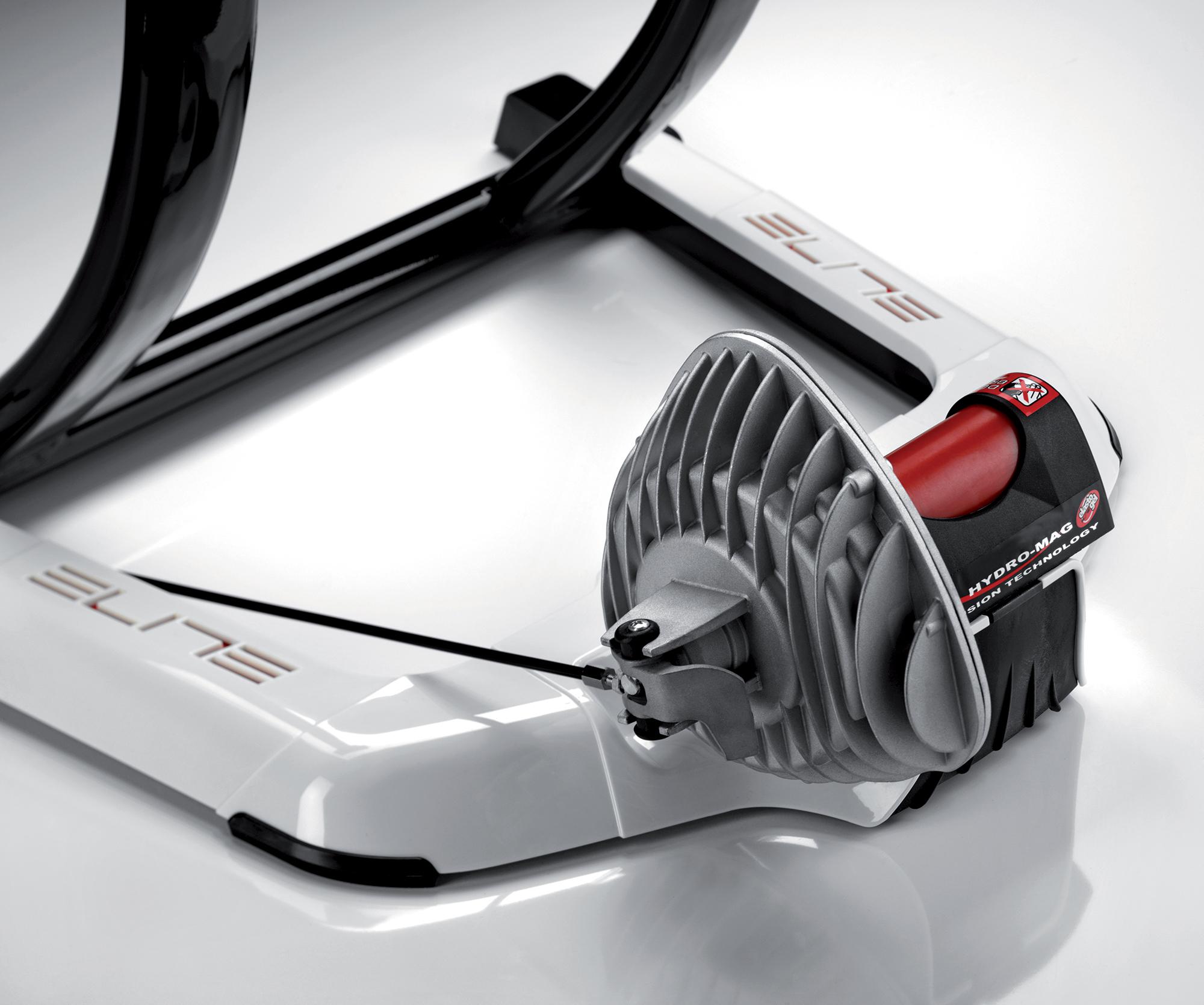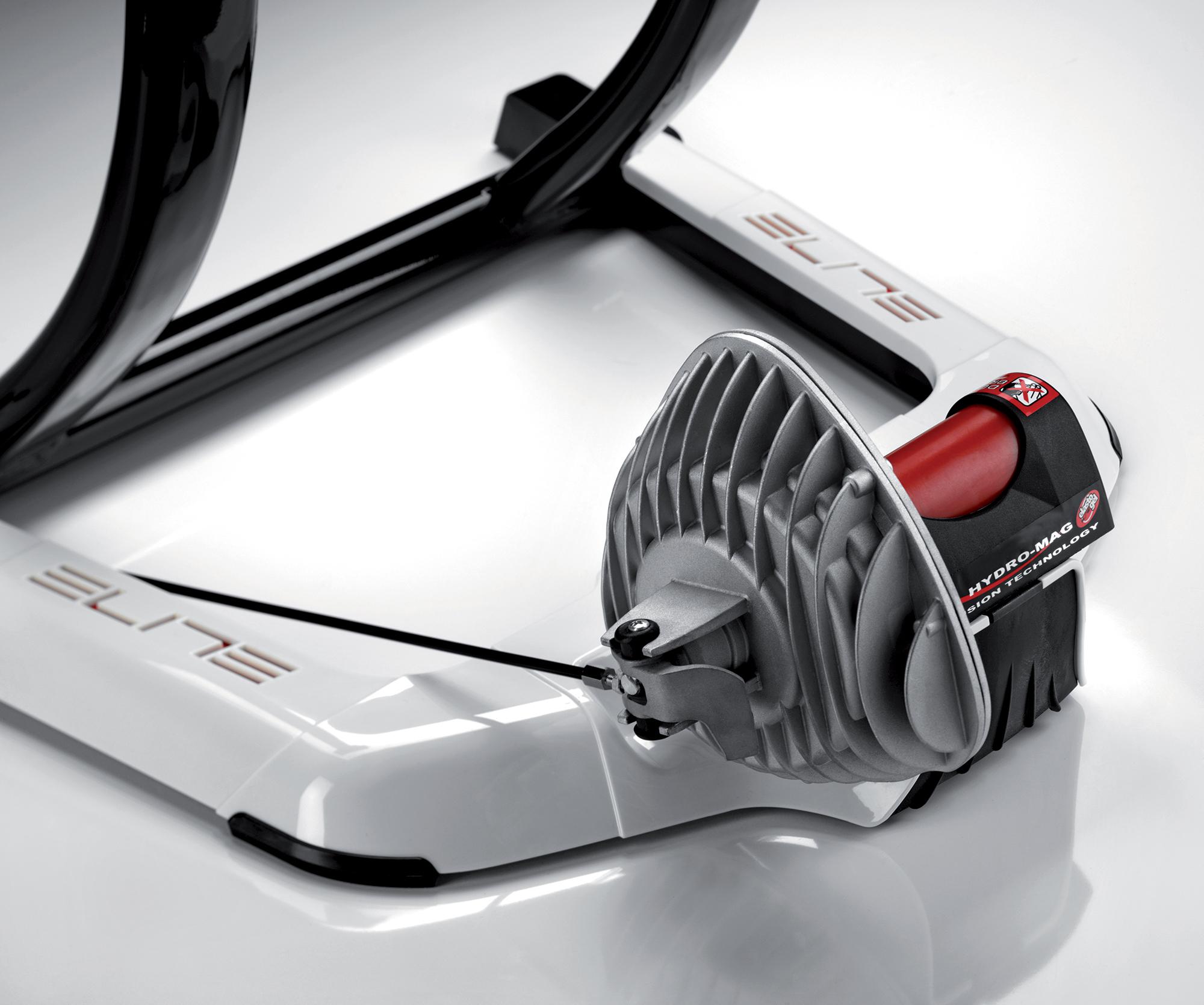 Designed for a quieter and smoother ride sensation, fluid turbo trainers have a propeller which rotates inside an oil-filled chamber. This creates a steadier level of resistance, which is controlled by bike gear changes. As well as providing a better ride feel, fluid trainers are also pretty quiet.
Direct Drive Turbo Trainers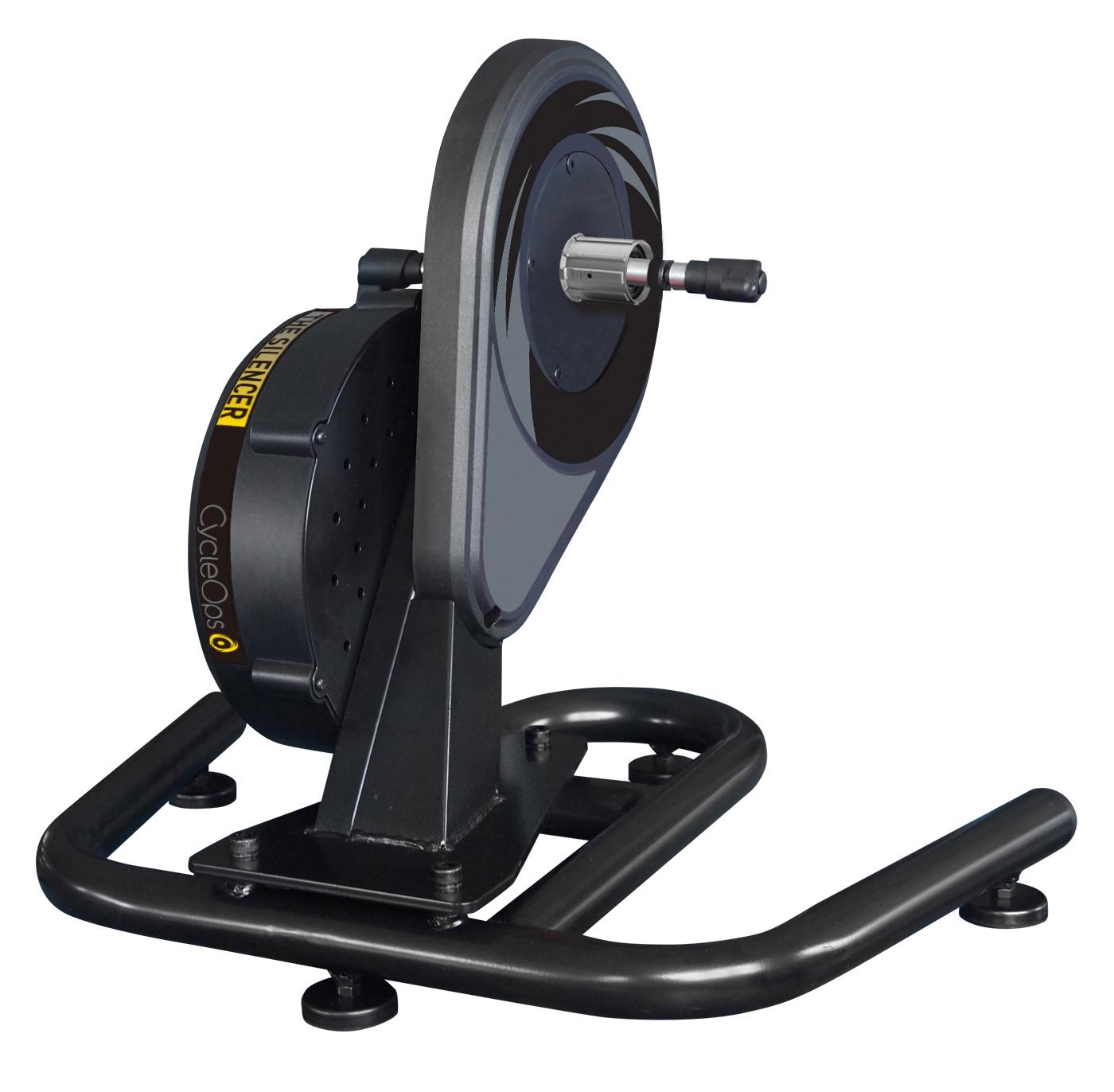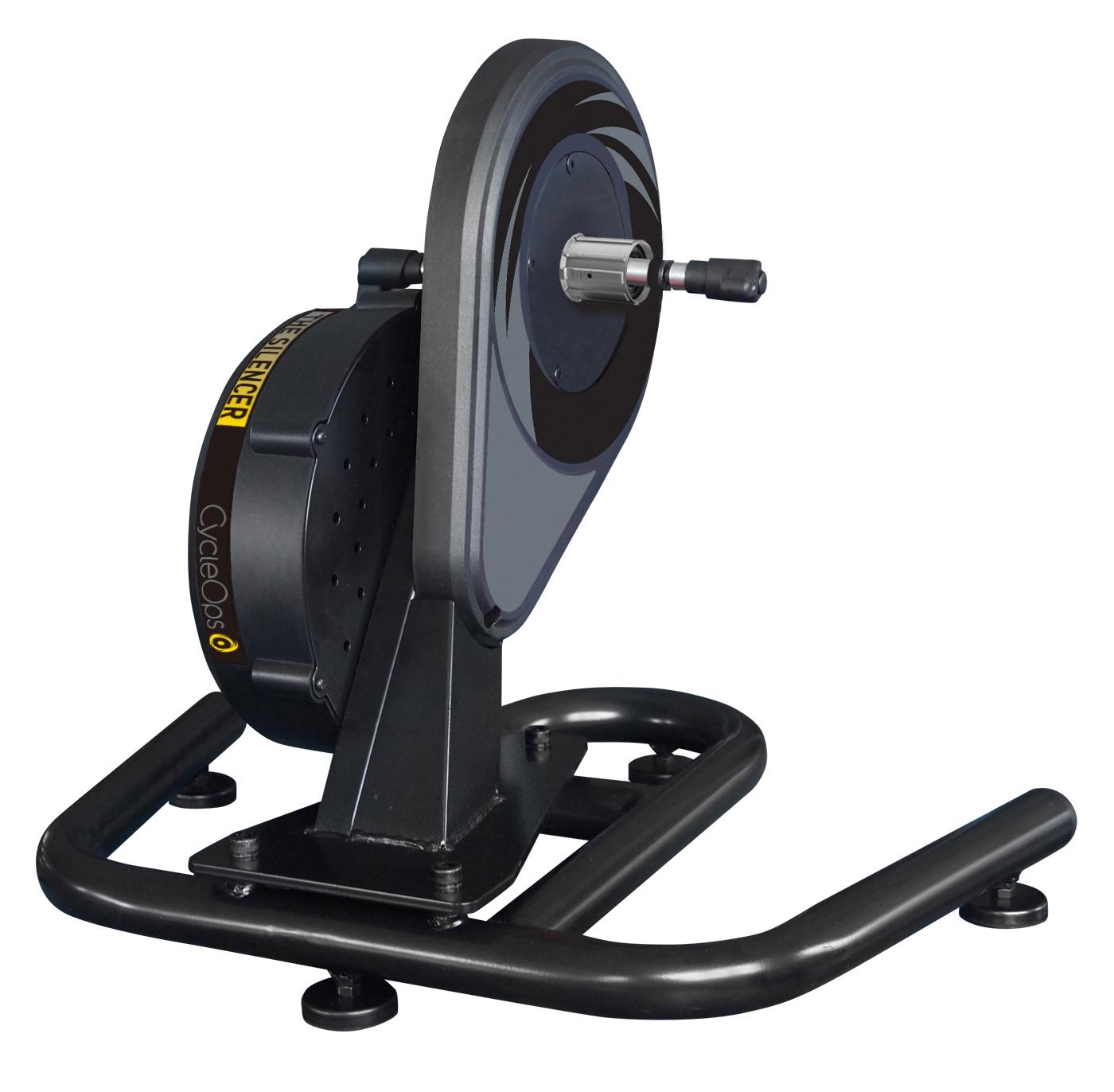 Slightly different to the ones mentioned above, a direct drive trainer requires you to remove your bike's rear wheel and sit the rear drop outs onto the trainer. Some trainers come with a cassette, but for others you'll have to use your bike's. The resistance depends on the type of trainer - some use magnetic resistance, whereas others use a motor. Direct drive trainers are a lot quieter and more stable, and you also don't need to worry about wearing your rear tyre out!
Smart Turbo Trainers
There's no getting away from it: turbo trainers just aren't very exciting. Staring at a wall for an hour or so, even if you're rocking out to music, gets old after a while. Whilst no substitute for the real thing, smart trainers go some way in helping to take the monotony out of cycling indoors with their range of interactive features.
The resistance units they use may differ - direct drive, magnetic, or motor - but what sets them apart is their ability to communicate with apps on a smart phone, tablet, or computer via either Bluetooth or ANT+.
Smart turbo trainers are available in two forms:
One-Way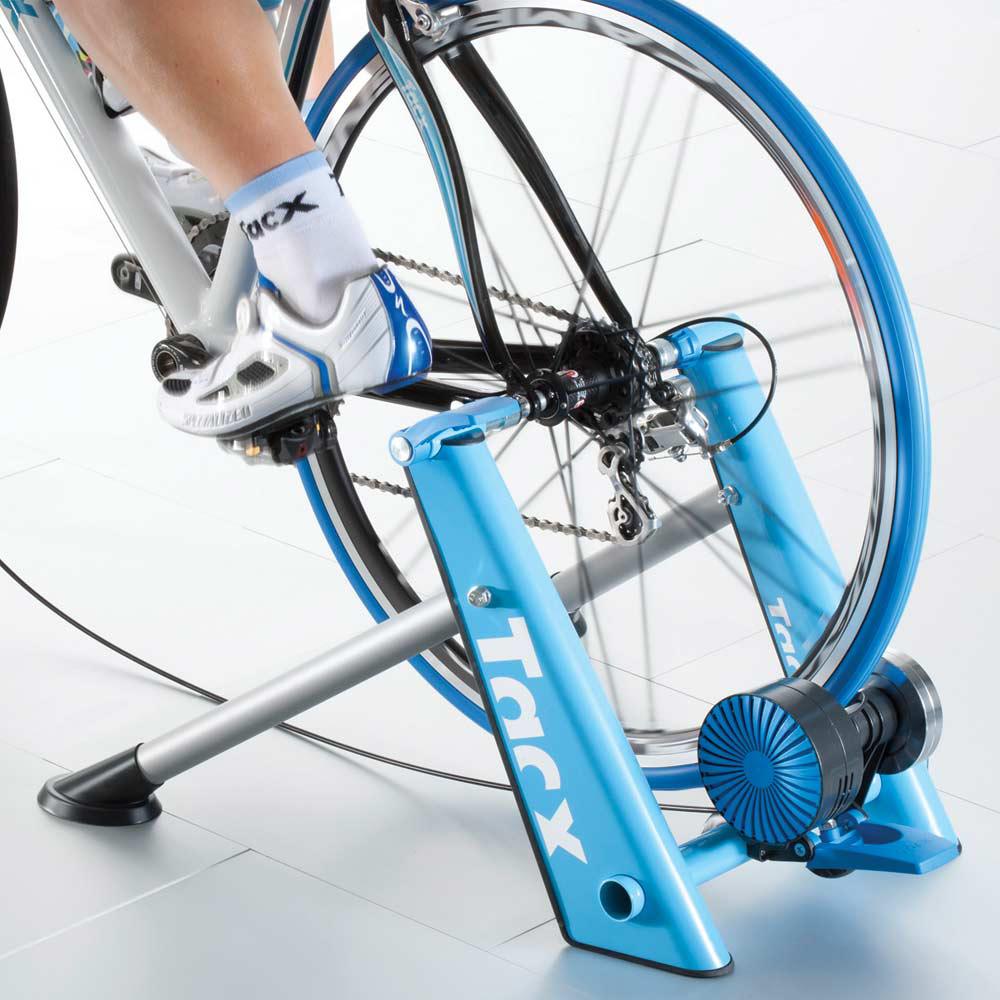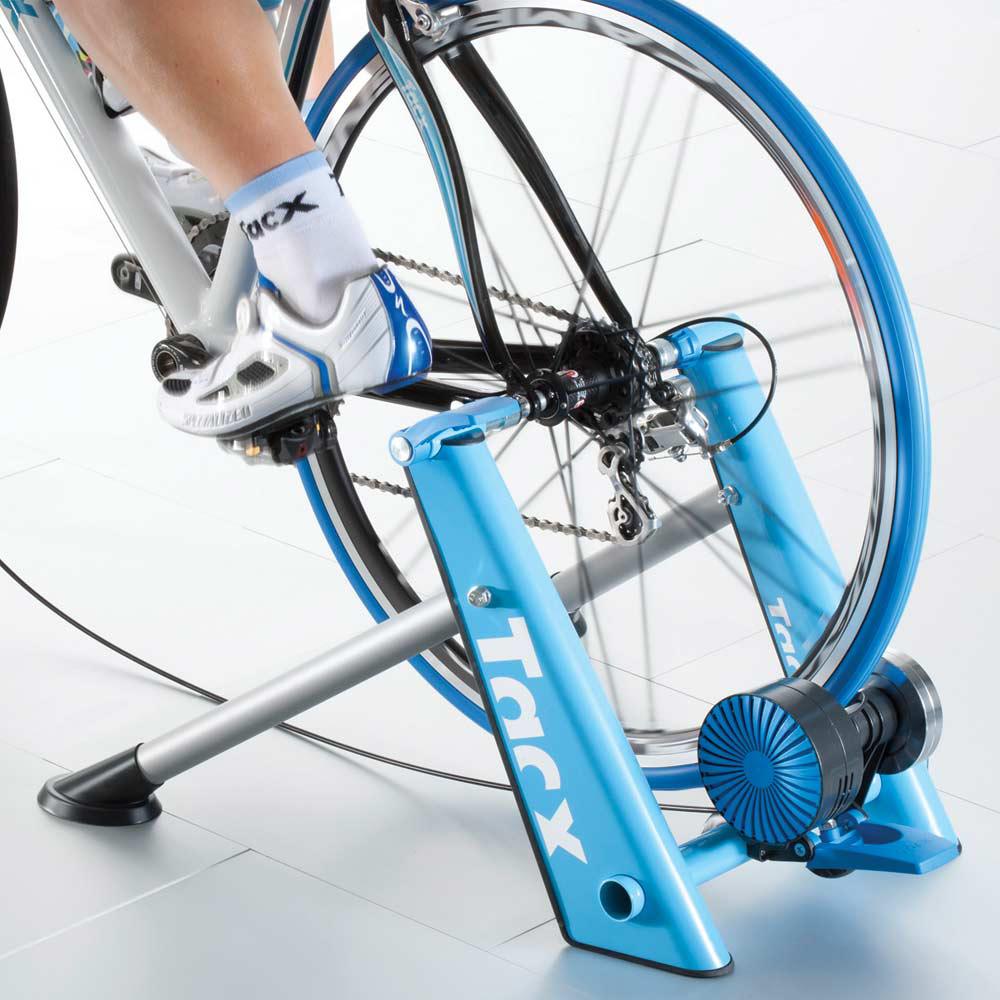 A one-way smart trainer communicates your power output and speed to your connected device. Using an app, you can then track and measure your progress against a route or training program and try to improve your performance. You control the resistance yourself using a handlebar-mounted lever.
Two-Way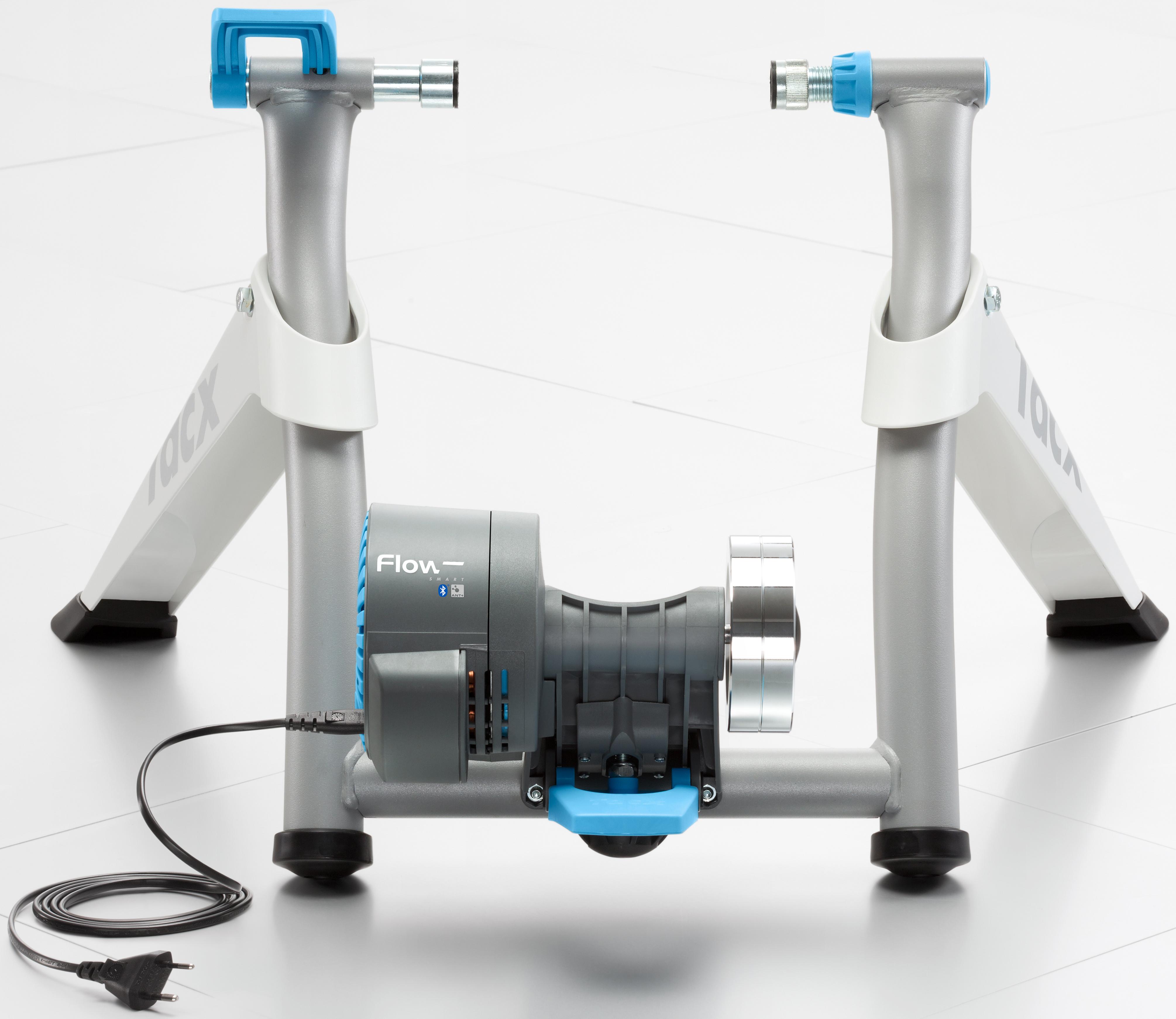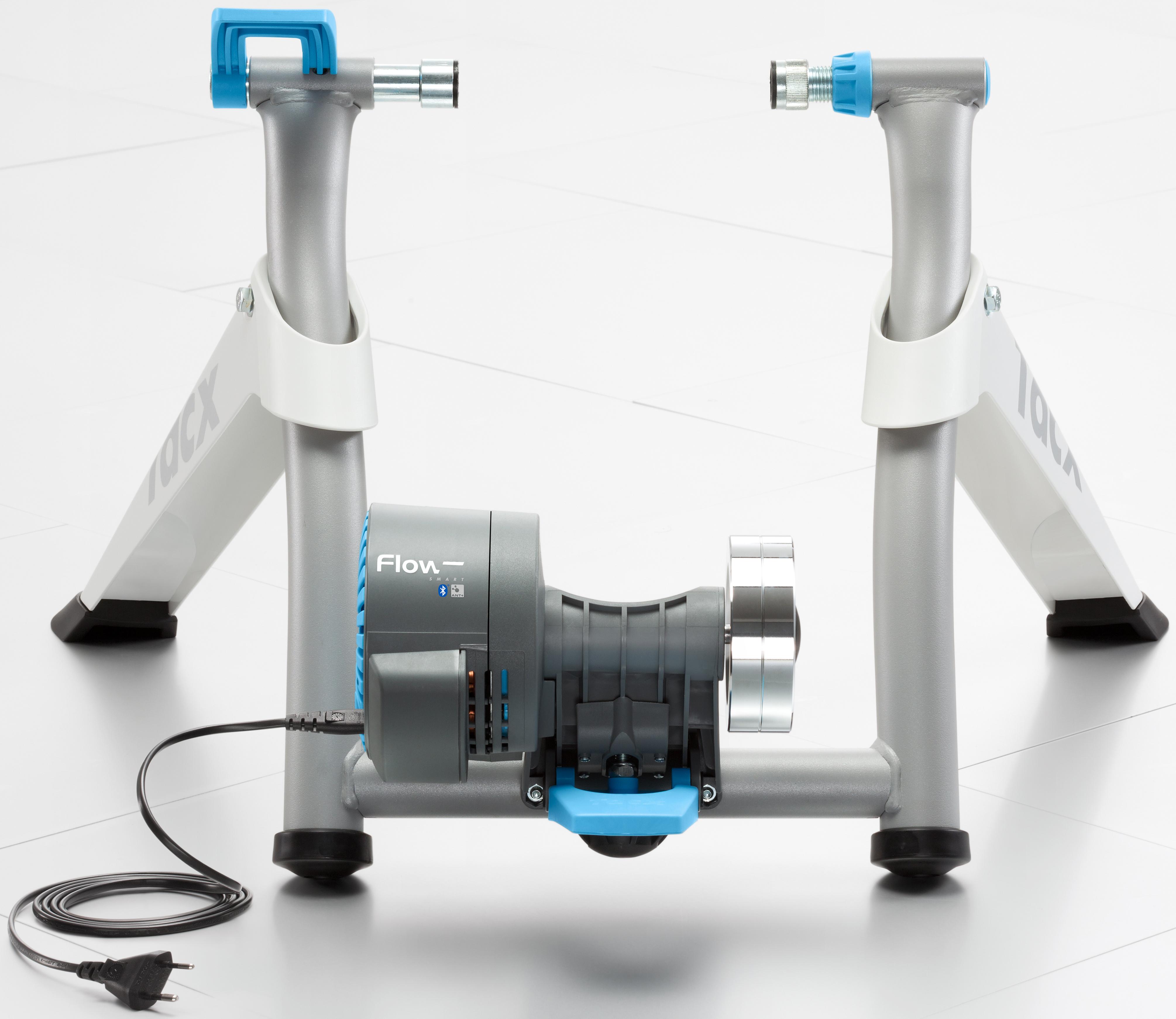 Two-way smart trainers enable you to follow a course on your tablet or computer, whilst realistically simulating the course. If the course goes uphill, resistance will increase. If the road starts to curve downwards, the resistance will lessen and you'll start to go faster. Some apps even let you cycle against others in real-time, and the ride is simulated on-screen with avatars. Two of the most popular apps for interactive training are Tacx and Zwift. What's more, these apps are all compatible with Strava, so you can keep measuring your progress through the winter.
Rollers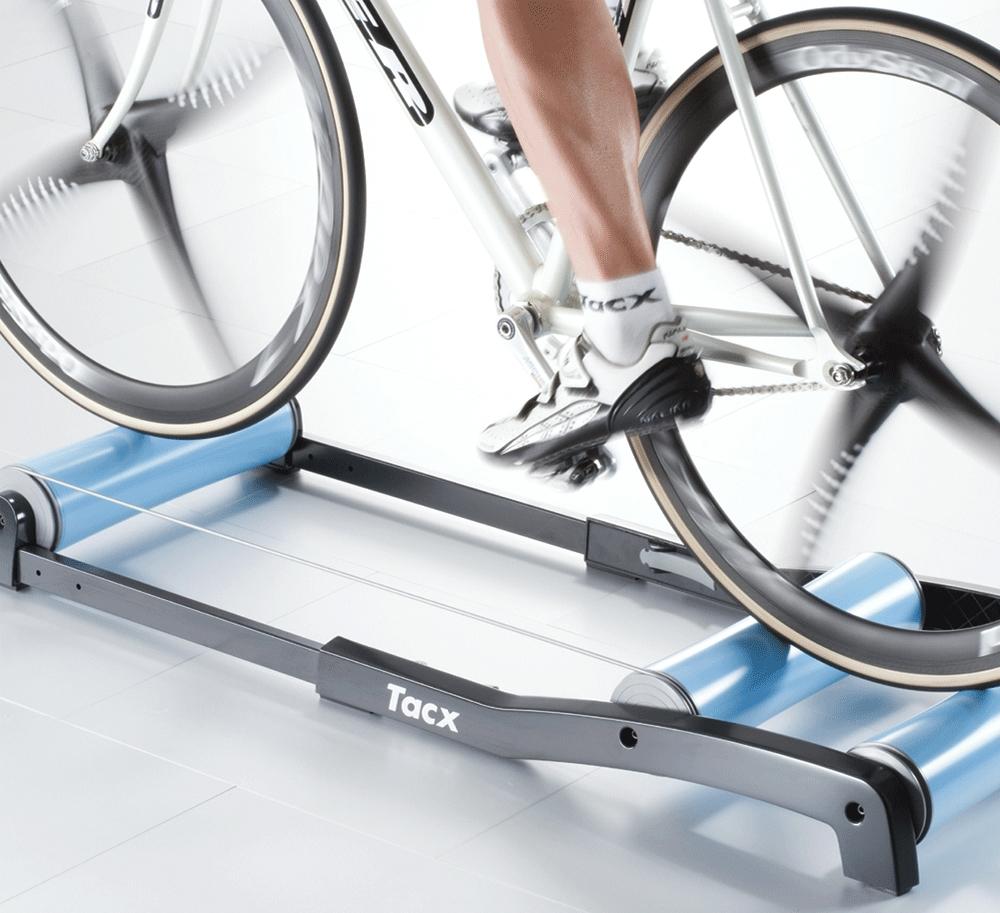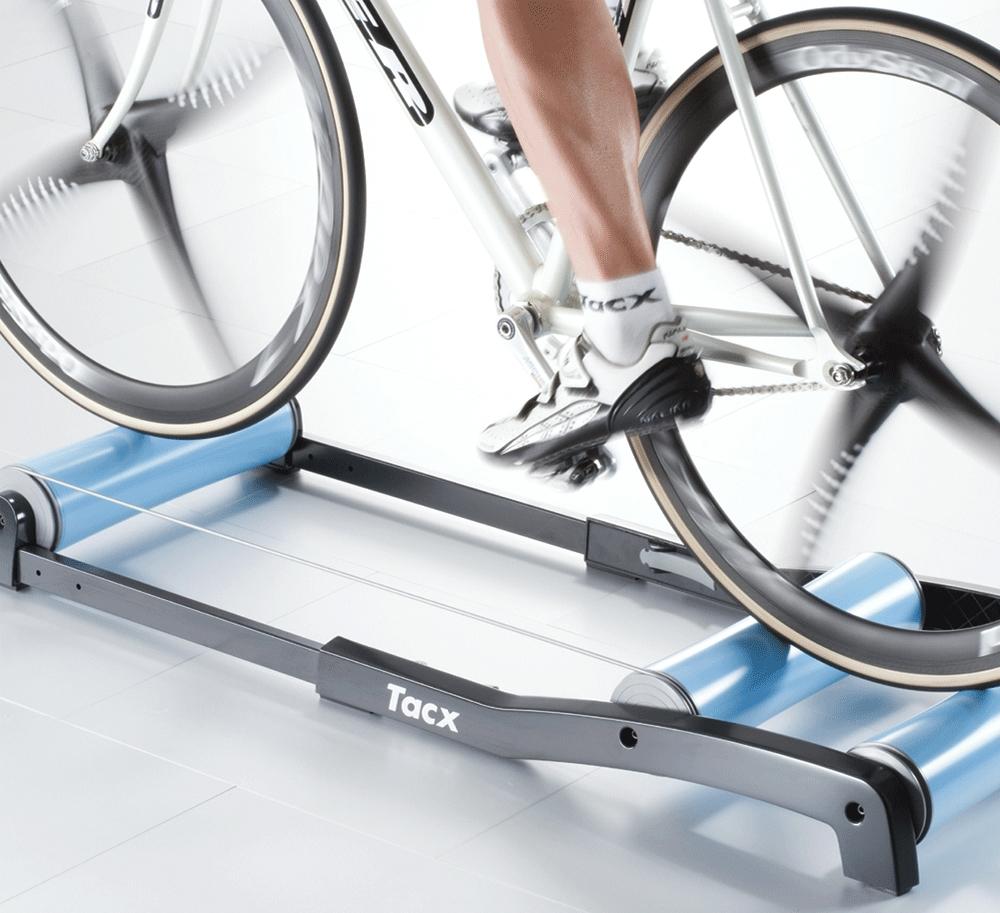 At the other end of the technology scale are rollers. These consist of three cylinders mounted to a frame upon which you ride your bike. These are superb for improving core stability and technique and are an excellent alternative to turbo trainers for high cadence workouts. Whilst they're a doddle to set up, rollers are a bit more of a challenge to use. They require great balance and concentration as effort is required to stay upright and wobble-free, but they recreate the sensation of road cycling more accurately than most other trainers.
When it comes to deciding what trainer's right for you, have a think about what your goals are. If you're looking to improve fitness as well as core strength, rollers may be your best match. Want to focus on power and sprints? Have a look at trainers that allow you to alter the resistance. Easily bored? Think about a two-way smart trainer. Love competing against your friends on Strava? Consider trainers that sync with phone apps or cycling computers.
Other Things to Think About
Folding and portability - are you a bit tight for space in your home? Then a foldable trainer might suit you better, especially if you're looking for a trainer to pop in your car to take out for a pre-race warm up. If stability and ride quality are the priority then a trainer with a heavy, sturdy frame would be a good idea.
Accessories
Once you have your trainer, there's no need to buy anything else. However, there are a wide range of trainer accessories available to improve your experience.
Trainer tyres are a great idea if you're putting in long or powerful sessions on your trainer. Turbo trainers will unfortunately wear your rear tyre down, but swapping it out for a specialised trainer tyre (which are a lot harder and made to withstand trainers) will mean you don't have to worry about it. Alternatively, opt for a cheap spare tyre that you use only with the trainer.
A riser block raises your bike's front wheel so the bike is level, and also provides extra stability. Some can be raised to different levels, simulating climbs.
Sweat protectors will catch those drips off your nose, protecting your bike's frame and preventing corrosion.
A training mat is a great idea, not only to protect your floor, but also because they really help to damp down any noise.
If you have a smart trainer, a tablet mount is a great accompaniment to your ride. These fit onto your handlebars and can show you a course to follow when used with a compatible app, such as Tacx.
Shop Turbo Trainers