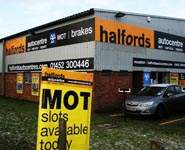 Halfords Autocentre Gloucester (Riga Wharf)
Unit 2A Riga Wharf Bristol Road Gloucester , GL2 5DH
What customers are saying about us
Very professional service and completed
Very professional service and completed the work on my car In time as promised Thanks John and your team Regards Darren
Friendly and efficient service
Friendly and efficient service, Jordan serviced my car and has done an excellent job They also fit me in last minute and did a quick safety check before we went on holiday, which really put my mind at Read more... ease :)
Vicky
I had a flat battery on Christmas day.
I had a flat battery on Christmas day. I had to wait until after boxing day to buy a new battery. I fitted the battery myself but still had the battery light alarm on the dash. Being Christmas week th Read more...e garages I drove past were closed...but Halfords Autocentre was open. (Bristol road - Gloucester) I parked up with no appointment and asked if they could check my alternator as there was no charge going to the battery. Expecting "That'll be 50 to plug in our laptop and check fault codes" But instead the manager said " I can book you in for a free battery check,that we offer, and look into it that way" That was a good start...a free check! It was a faulty alternator. The manager had to find a replacement-luckily! they have their own part supply, because everyone else was closed for Christmas. It was late Friday morning and so I left the car with them as I was a 'walk in' and they were working on other cars. I think the alternator was delivered the same day, but the belt & tensioner were delivered on Saturday morning. I had a call on the Saturday about the car. It had been road tested and ready for collection. The price for the labour, alternator, belt & tensioner + vat 399. The service was excellent from start to finish The staff were very friendly & knowlegeable. 5 star service rating from me. (I've waited a couple of weeks before posting this incase of any failures from the repair. None.)
Excellent service
Excellent service, arrived early and the Halfords team carried out the work whilst I waited.
Good service
Friendly, professional and helped solved problems. Also dealt well with my frustrations when something unforeseen came up. Thank you
Great Service - will be returning
Great Service - took in for initial top up of Adblue and was happy. Team there are polite and work hard. Warning light came back on a few weeks later and there was no hesitation on their part for me t Read more...o bring car back in ASAP. When I returned they checkEd it again and seems there was an issue with the levels and my car doesnt tell you how much is remaining or required. Anyway pleased to say all was rectified and was not their fault but they very much looked after me, the customer. We will be using them a lot more from now on. Thank you team!
Great team
Great team, quick service, would highly recommend
Caitlin
Great friendly service
Great friendly service
Mot done in time at a good price
Mot done in time at a good price