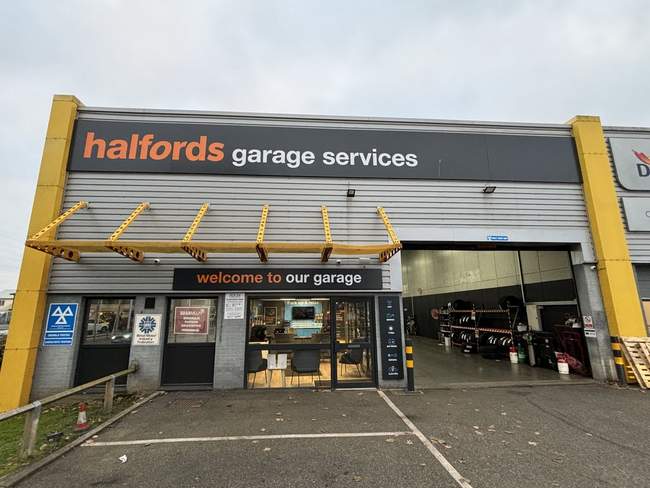 Halfords Autocentre Canterbury
Unit 1a Broad Oak Trading Estate Broad Oak Road Canterbury , CT2 7PX
Holiday Opening Hours:
Opening hours:
What customers are saying about us
Canterbury Branch
Canterbury: MOT and service all booked well on their website, despite their booking system having a fault, but they contacted me by phone to confirm. I always bank on garages wanting around 500 for a Read more... service and MOT and this was no different, finding pads and discs needed doing, and that my emissions were borderline, so needed a 22 common rail cleaner. As I had used Redex the previous week, I considered this might be a bit dubious, but went with it as the path of least resistance. All in all a good job done and the staff were excellent. Decor and seating in the reception did not encourage me to stay for long...the sofas looked very torn and like they had been rescued from a skip.
Fixed my buckled wheel whilst I waited
Fixed my buckled wheel whilst I waited. Identified brake disc pads low. Very professional and helpful.
Bob
Van Service
Prompt,value for money service
Excellent service
Excellent service. Friendly staff and very efficient performance. My car feels better than it has for the past 5 years. Better than a main-dealer service in my experience. I cant rate this high enoug Read more...h.
Halford in Canterbury did a really good
Halford in Canterbury did a really good job, they had my mot finished when they said they would and even finished the extra work I needed to pass 2 hours earlier than expected. Although the work proba Read more...bly cost more than other places I now have brake pads for life so its cheaper in the long run
online service history
I was very impressed with the courtesy shown to me by the staff at the canterbury halfords autocentre, & also that a couple of defects that were rectified at the managers discretion was a nice touch Read more...and something very rare nowadays,I also am impressed with the online booking procedure & paying the bill online too,everything is itemised & its a good way to keep records of service history etc,all in all a good experience,I,ll be using Halfords Autocentres again 4sure
5* Service
Managed to get a same day appointment on a Saturday when I remembered my MOT was due. Dropped off early so my wife and I could go shopping which was no problem for them. Friendly, professional service Read more... and luckily the car passed which was a bonus too...My wife and I have both taken our cars here for our MOT for the passed couple of years and will do for the foreseeable...
Chris Tillman
Good price and good service
Good price and good service. Very nice and honest staff
Efficient service
With an MOT you just want it done quickly and efficiently. Thats exactly what Halfords provided. Booked and paid online a couple of hours before, turned up, keys taken, MOT sorted, hour later - all Read more... done and collected. Perfect.