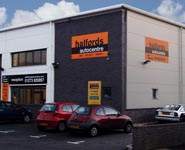 Halfords Autocentre Hove
Unit 1, Delphi House English Close Hove , BN3 7EE
What customers are saying about us
Mx Sibanda
Nick, the manager, was super helpful. Took responsibility after a kerfuffle with the booking. It took longer than I had expected but he seemed quite contrite. Who would deny someone with a heart to gv Read more...e first class service- even when things aren't perfect.
MOT @ Halfords
MOT Old Shoreham Road, Hove Sussex. Very friendly. Straight to the job. No messing. Friendly Staff.
Donna Hawkins
Very Impressed with Halfords Hove!
I booked a Puncture Repair appointment online, which I got immediately! I was informed that a new tyre was necessary and Ricky (Hove Autocentre) explained the reason and showed me the damaged tyre in Read more... the workshop. I wanted the replacement tyre to be the same make and tread as the old one so there was a short wait while one was obtained and this was then quickly fitted.
Went the extra mile!
Went the extra mile! Accepted a short notice MOT booking. Work done punctually. Bulb changed gratis to get through MOT first time. Nice to see them being really helpful.
Nice surprise
Wasnt sure what to expect not having used them before, but I was very happily surprised -everything was quick, efficient and cheap.
Quick and helpful service
Quick and helpful service, thank you.
MOT test 11.01.2020
Had my car booked in for an 11.00 hours MOT however the staff member who did MOTs wasnt in so I had to have it in for 08.15 so it could be transported to another garage to do the MOT... Doesnt soun Read more...d promising I know but as it goes this was handled smoothly and the car was done and ready to collect by 11am so in all a pretty efficient job in not ideal circumstances.
Paul Lord
Very good service and care!
Very good service and care about customers and the prices are very affordable! Highly recommend
Great job as always
Great job as always