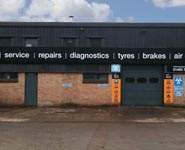 Halfords Autocentre Woking
Poole Road Woking , GU21 6DY
What customers are saying about us
Went online put in my car reg it came…
Went online put in my car reg it came up with 4 rear wipers chose one , the reality is it was the wrong size so be careful don't take for granted the recommendations for your car .
Easy booking process, good price and service
Easy booking process, great discount as Halfords were offering 20% off services. Damian was helpful and knowledgeable. Car was serviced on time and there were no extra costs. Damian talked me through the advisories that I needed to keep an eye on. I'll go to Halfords again for my next car service.
Top service
The Halfords team always keep our car it in top service condition so it is lasting us many years (+17)