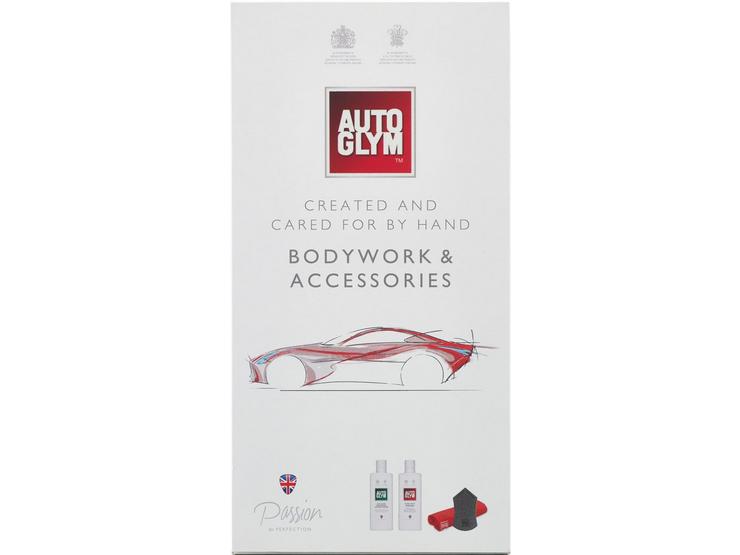 10 people are viewing now
5 purchases during last 48 hours
+ Extra 10% off*
ENDS TODAY!
Use code SALE10 in basket
*Terms & conditions apply. Discount applied in basket
Cleaning Stage : Wash
Suitable For : Exterior
Number Of Products : 4
Autoglym Bodywork and Accessories Gift Collection
The Autoglym Bodywork and Accessories Gift Collection is great value for either loyal Autoglym fans or for new starting detailers. The kit contains everything you need to make your car clean and shiny including Autoglym's number 1 polish, the Super Resin Polish.
Features & Benefits:
Collection includes: 1x 325ml Bodywork Shampoo & Conditioner
x1 325ml Super Resin Polish
x1 Hi Tech Finishing Cloth
x1 Perfect Polish Applicator
Additional Note:
How to Use:
Bodywork Shampoo & Conditioner
Shake well. Pour 2 capfuls into a bucket and add 10 litres of warm or cold water.
Hose bodywork to rinse away excess dirt. Always work on a cool surface, shampooing the car from the roof down.
Do not allow the shampoo to dry on the car.
Rinse well with clean water and dry with a Microfibre Drying Towel to prevent water spots.
Super Resin Polish
Wash and dry the paintwork.
Shake well and pour a small amount onto a polish applicator.
Apply a thin layer to the paintwork in overlapping circles to ensure even coverage. Increase pressure over any marks, scratches or dull patches. Allow to dry. Do not apply to unpainted rubber or plastic trim.
Buff with a Hi-Tech Finishing Cloth.
Stand back and admire the shine.
Perfect Polish Applicator
Apply a small amount of product in a thin line down the centre of the Autoglym Perfect Polish Applicator.
Fold the applicator in half to ensure even spread of the product.
Apply product as instructed on the product label.
After use wash in clean, warm water and allow to air dry.
Important: Do not leave in direct sunlight.

Care instructions:

The Hi-Tech Finishing Cloth should be machine or hand washed at low temperatures with liquid detergent that does not contain fabric softener. Wash separately to avoid colour transfer.
Hazards & Warnings

Warning: May cause an allergic skin reaction

Warning: Causes serious eye irritation

Warning: May cause drowsiness or dizziness