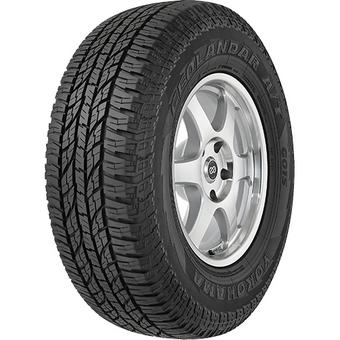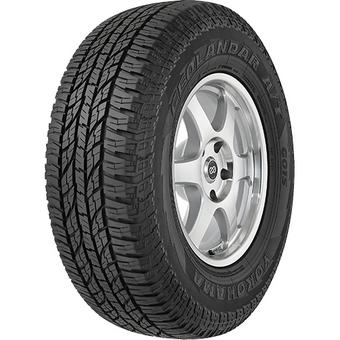 Price includes valve*, balance and environmental disposal of your old tyres - no hidden extras! *Specialist valves will incur an additional charge. Please enquire in centre.
4x4, SUV &Pick-Up fitments
Providing all-terrain performance
3Peak & Snowflake Winter credentials
Yokohama
Established in 1917, Yokohama is the oldest tyre manufacturer in Japan. Producing over 70 million units each year, Yokohama is an acknowledged leader in high performance tyres. Fitted as original equipment to some of the world's leading car manufacturers including Audi, Honda, Lexus, Mercedes, Nissan, Porsche, Toyota, VW and many more.
Geolandar A/T G015
Yokohama's Geolandar A/T G015 tyre is an all-terrain tyre designed for SUV's, 4x4's and pick-ups. The pattern has 4 main straight grooves that enhance water drainage which helps to improve wet braking performance. It has a full cover of nylon which reduces damage on the tread area for better durability.
Other tyres in this range
Tyre Variation
Features
Availability
Price
Yokohama Geolandar A/T G015 (205/80 R16 104T) XL
In Stock
£90.99
Yokohama Geolandar A/T G015 (225/55 R18 98H)
In Stock
£126.99
Yokohama Geolandar A/T G015 (235/65 R17 108H) XL
In Stock
£121.99
Yokohama Geolandar A/T G015 (235/85 R16 120/116R) 73FC
Out of Stock
£132.99
Yokohama Geolandar A/T G015 (215/60 R16 95H)
In Stock
£130.99
Yokohama Geolandar A/T G015 (225/65 R17 102H)
In Stock
£120.99
Yokohama Geolandar A/T G015 (245/65 R17 105T)
In Stock
£133.99
Yokohama Geolandar A/T G015 (235/70 R15 102T)
Out of Stock
£97.99
Yokohama Geolandar A/T G015 (255/55 R18 109H) XL 72FC
Out of Stock
£129.99
Yokohama Geolandar A/T G015 (215/60 R17 96H)
In Stock
£110.99
Yokohama Geolandar A/T G015 (10.5/31 R15 109S)
Out of Stock
£141.99
Yokohama Geolandar A/T G015 (225/70 R15 100T)
Out of Stock
£110.99
Yokohama Geolandar A/T G015 (245/65 R17 111H) XL
In Stock
£131.99
Yokohama Geolandar A/T G015 (215/65 R16 98H)
In Stock
£96.99
Yokohama Geolandar A/T G015 (255/55 R19 111H) XL 72FC
Out of Stock
£143.99
Yokohama Geolandar A/T G015 (11.5/32 R15 113S)
Out of Stock
£159.99
Yokohama Geolandar A/T G015 (225/70 R16 103H)
In Stock
£104.99
Yokohama Geolandar A/T G015 (265/50 R20 107H) 72FC
Out of Stock
£184.99
Yokohama Geolandar A/T G015 (245/70 R16 106T)
In Stock
£105.99
Yokohama Geolandar A/T G015 (235/70 R16 106H)
In Stock
£95.99
Yokohama Geolandar A/T G015 (215/70 R15 98H)
Low Stock
£96.99
Yokohama Geolandar A/T G015 (225/70 R17 108T) XL
In Stock
£139.99
Yokohama Geolandar A/T G015 (255/65 R16 109H)
In Stock
£106.99
Yokohama Geolandar A/T G015 (265/75 R16 114T)
Out of Stock
£152.99
Yokohama Geolandar A/T G015 (12.5/33 R15 108S)
Out of Stock
£180.99
Yokohama Geolandar A/T G015 (265/60 R18 110H)
In Stock
£143.99
Yokohama Geolandar A/T G015 (245/70 R16 111H) XL
In Stock
£115.99
Yokohama Geolandar A/T G015 (235/70 R17 109H) XL
Out of Stock
£150.99
Yokohama Geolandar A/T G015 (215/70 R16 100H)
In Stock
£105.99
Yokohama Geolandar A/T G015 (225/75 R16 115/112R) 73FC
Low Stock
£148.99
Yokohama Geolandar A/T G015 (245/70 R17 108T)
Out of Stock
£160.99
Yokohama Geolandar A/T G015 (275/55 R20 117H) XL
Out of Stock
£179.99
Yokohama Geolandar A/T G015 (255/65 R17 114H) XL
In Stock
£127.99
Yokohama Geolandar A/T G015 (215/75 R15 100/97S) 73FC
Out of Stock
£102.99
Yokohama Geolandar A/T G015 (225/80 R15 105S)
In Stock
£125.99
Yokohama Geolandar A/T G015 (265/65 R17 112H)
In Stock
£139.99
Yokohama Geolandar A/T G015 (255/70 R15 112/110S) 73FC
Out of Stock
£118.99
Yokohama Geolandar A/T G015 (245/70 R17 119/116R) 73FC
Out of Stock
£168.99
Yokohama Geolandar A/T G015 (235/75 R15 108T) XL
Out of Stock
£98.99
Yokohama Geolandar A/T G015 (275/60 R18 113H)
In Stock
£147.99
Yokohama Geolandar A/T G015 (235/55 R19 105H) XL 72FC
In Stock
£159.99
Yokohama Geolandar A/T G015 (215/80 R15 102S)
Out of Stock
£102.99
Yokohama Geolandar A/T G015 (285/65 R17 116H) 71FC
Out of Stock
£170.99
Yokohama Geolandar A/T G015 (245/75 R16 109T)
Out of Stock
£137.99
Yokohama Geolandar A/T G015 (265/65 R18 114H)
Low Stock
£182.99
Yokohama Geolandar A/T G015 (235/60 R16 100H)
In Stock
£96.99
Yokohama Geolandar A/T G015 (195/80 R15 96H)
In Stock
£82.99
Yokohama Geolandar A/T G015 (235/75 R15 109H) XL
Low Stock
£112.99
Yokohama Geolandar A/T G015 (285/70 R17 117T)
Low Stock
£200.99
Yokohama Geolandar A/T G015 (275/60 R20 115H)
In Stock
£197.99
Yokohama Geolandar A/T G015 (245/75 R16 120/116S) 73FC
In Stock
£132.99
Yokohama Geolandar A/T G015 (265/70 R15 112H)
In Stock
£125.99
Yokohama Geolandar A/T G015 (235/60 R18 107H) XL
In Stock
£141.99
Yokohama Geolandar A/T G015 (205/70 R15 96H)
In Stock
£96.99
Yokohama Geolandar A/T G015 (255/70 R16 111H)
In Stock
£156.99
Yokohama Geolandar A/T G015 (285/70 R17 121/118S) 73FC
Out of Stock
£189.99
Yokohama Geolandar A/T G015 (245/75 R17 121/118S) 73FC
Out of Stock
£187.99
Yokohama Geolandar A/T G015 (275/65 R18 116H)
Out of Stock
£177.99
Yokohama Geolandar A/T G015 (255/70 R17 110T)
Out of Stock
£158.99
Yokohama Geolandar A/T G015 (265/70 R16 112H)
In Stock
£129.99
Yokohama Geolandar A/T G015 (275/70 R16 114H)
In Stock
£131.99
Yokohama Geolandar A/T G015 (255/70 R18 113H)
In Stock
£146.99
Yokohama Geolandar A/T G015 (315/70 R17 121/118S) 73FC
Out of Stock
£218.99
Yokohama Geolandar A/T G015 (265/70 R17 113T)
In Stock
£163.99
Yokohama Geolandar A/T G015 (285/45 R22 114H) XL 71FC
In Stock
£230.99
Yokohama Geolandar A/T G015 (9.5/30 R15 104S)
Out of Stock
£129.99
Yokohama Geolandar A/T G015 (265/70 R18 116H)
Low Stock
£181.99
Yokohama Geolandar A/T G015 (285/50 R20 112H)
Out of Stock
£201.99