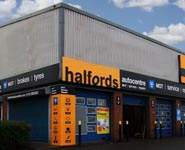 Halfords Autocentre Leeds (York Road)
Melbourne Park York Road Leeds , LS14 6AX
What customers are saying about us
Car in for MOT and service,always
Car in for MOT and service,always Friendly, polite and helpful ,really happy with service provided,Scott was dealing with my car at York road Leeds
Brilliant service
Brilliant service. Amazing staff
Claire
Car in for 2 door stays..Scott & Matt
Car in for 2 door stays..Scott & Matt were great job done along with Matt checking my tyre pressures even to spare. Would recommend this garage to have fixed prices... knowledgeable macahnics no RIP O Read more...FF bills...will be using thisgarage again Thanks Lads...
Excellent service I thought I had a big
Excellent service I thought I had a big problem with my exhaust turned out to be something very minor and only took a few minutes to repair, very honest and efficient garage and staff will definitely Read more...recommend and go back for when my MOT is due, thank you.
Friendly and helpful
Really friendly, helpful staff. Will definitely recommend and I will be using them again.
Halfords Autocentre, Killinbeck, Leeds.
Halfords Autocentre Killinbeck was able to sort my tyre repair in good time leaving me to drive away confident that the problem was solved and wouldn't come back. Peace of mind and safety is always ve Read more...ry important to me as a driver.
Friendly
Friendly, helpful and at a good price with a smile. Thank you
Ellie
Excellent customer service
Excellent customer service. Friendly staff
Very helpful guys in reception helped
Very helpful guys in reception helped check my battery and replaced it immediately No problems will visit again when required