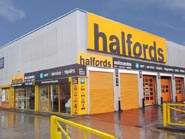 Halfords Autocentre Stoke-on-Trent
Unit 2, Victoria Road Stoke on Trent , ST4 2HZ
What customers are saying about us
Car Battery
Went for a replacement car battery. They were very efficient. Did not have to wait too long. The guy who served me (Alasdair?) was pleasant and polite. There is no waiting area so browsed in the Halfords store. Also got a 10% discount being an AA member.
Well just had my mot and service at…
Well just had my mot and service at Halfords Victoria Rd Stoke, could not be happier. Everything went as smooth as I could want, was kept informed throughout the process, I knew that it was going to cost me a bit more than I would ideally like to pay lol (we all want loads of work done for next to nothing) but for the amount of work that I KNEW it needed I was more than happy to have it done. Where will my next mot be? Well after this experience it won't be any small back street garages that promise the world at cheap prices, it will be back at Halfords, I know the price will be reasonable, the work first class, and customer service second to none. Thank you all the staff at Halfords.
Worth every penny!
I was very impressed with the service I got at Halfords Autocentre, Stoke. They were the only people who could fit Dunlop tyres the next day after ordering online, and the price was very competitive. Not only did they fit two new tyres, but discovered a broken spring and siezed brake calipers in the process. I would thoroughly recommend them.