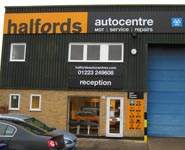 Halfords Autocentre Cambridge (Clifton Road)
Unit 19 Clifton Road Ind Estate Clifton Road Cambridge , CB1 7EA
What customers are saying about us
excellent service!
excellent service!
I was met in reception by Ben
I was met in reception by Ben, he was very polite, friendly and helpful. Ben explained what would happen with my car for its MOT. My car was handed over to Jamie who was going to do the MOT, he was also very friendly, polite and helpful. When Jamie came to let me know that my car had past it's MOT he explained that there was an advisory to which he then informed me what it was. Both Ben and Jamie were very helpful.
Very accurate report
Very accurate report. Unfortunately, there's something wrong with the suspension and Mark said, although the shop is fully booked on the next day he will try to resolve it. Luckily, on the following day, the issue was resolved. I picked up the car at 12 noon.