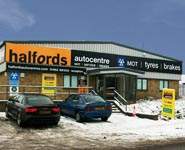 Halfords Autocentre Letchworth
Factory 796 Victory Works Birds Hill Letchworth , SG6 1HX
What customers are saying about us
My car went in for MOT and full…
My car went in for MOT and full service. Having never been there before was a great experience. Friendly people. I was kept updated through the day of what was happening. Would use again.
Helpful & Efficient Service
Very helpful staff (particularly Jamie), who also kept customer fully infomed thro 'out. This included "upgraded" tyres due to a delivery failure.
Website lets you book and pay in…
Website lets you book and pay in advance for services they cant deliver. Booked and paid for a 4 wheel alignment but then told later they don't have the equipment. Also, taking over an hour and 10 minutes to change two tyres I consider excessive. All vehicle details were provided at time of booking.