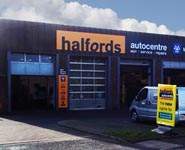 Halfords Autocentre Eastbourne
Lottbridge Drive Eastbourne , BN23 6PJ
What customers are saying about us
First class service
First class service
Friendly and knowledgeable highly
Friendly and knowledgeable highly recommended
Chrissie Cunningham
Good service
Quick, professional and value for money service and well explained after problems were fixed. Will come again.
Tyre replacement
Took my mum's car to have two tyres replaced. I had ordered them online as it was much cheaper. It was busy but I received good and efficient service from the staff. Would recommend Halfords Autocent Read more...re in Eastbourne.
Excellent customer service
Excellent customer
Another excellent job by Halfords
Another excellent job by Halfords Eastbourne. Many thanks to Jamie and the very professional crew.
Halford Eastbourne are great.
Booking in system is perfect. Reception is perfect. MOT on time. Jamie is totally customer friendly. What more can you say
Halfords autocentre Eastbourne
I used Halfords autocentre in Eastbourne yet again to do the mot on my car. As always, I received an impeccable service that I could not fault.
Mr Cooper
Jamie and the team are helpful
Jamie and the team are helpful, polite, not at all patronising. You feel they have your best interests at heart. The give you an honest opinion about the urgency of repairs and don't take the mickey Read more...about the cost of tyres, batteries, brakes and the like.
Excellent service
Excellent service Easy to book Cheaper than main garages