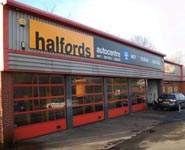 Halfords Autocentre Stourbridge
Camp Hill Wordsley Stourbridge , DY8 4AD
What customers are saying about us
Highly Recommend
Quick, efficient and helpful service.
Stourbridge Autocentre
Booked MOT online. No issues when I arrived. On time, professional, friendly guys, and all at a good price. Really cant say fairer than that. Would use again without hesitation.
Clearly using customers to hit monthly targets!
Would NOT recommend this garage. Went for an MOT and was failed on the rear brakes being low and rear springs snapped. I was then quoted over £300 over the phone to have it fixed and they could do it the following day. My partner decided to go down and take a look himself, as a car enthusiast he knows his stuff. Once there they showed us a small amount of erosion at the bottom of the Springs but couldn't see how they had "snapped". We took the car home, removed the Springs to find they definitely hadn't snapped as described. We rang them back to complain about falsly failing the car and they offered a refund without quibble, I was refunded the very next morning despite being told it would take 7-10 days! Clearly they had seen me and decided there and then that I wouldn't know anything about cars and they would use me to get a few jobs booked in probably with the aim of hitting "monthly targets". I took my car to another garage and it passed with only a few minors. My advise would be to go to a local "non corporate" garage to avoid being used to hit monthly targets.