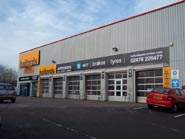 Halfords Autocentre Coventry (36 Foleshill Rd)
36 Foleshill Road Coventry , CV1 4NU
What customers are saying about us
Very good service all round with…
Very good service all round with knowledgeable and reassuring staff.
Excellent service
Car broke down about 10.30 and was towed by RAC to Halfords. Was advised next available slot is next Thursday which was fine so left car with them as it may required new clutch . However the fault was with slave cyclinder instead. Got a call that evening said that there has been a cancellation and the vehicle would be ready the same day . Excellent service !
2 tyres fitted - great service
2 tyres fitted at the time booked all left clean and tidy. Fitter even ran the car around the block before setting the torque on the wheel nuts. ( not seen that before). Price was competitive. Altogether a very good service and i will go back.