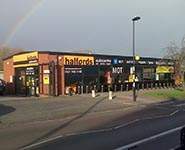 Halfords Autocentre Sheldon
10 The Radleys Sheldon Birmingham , B33 0QX
What customers are saying about us
Booked here for the first time for…
Booked here for the first time for Service and Mot staff where friendly and polite. Mot and Service were completed quicker than time quoted so was pleased. Gave me recommendations on some work that needed to be done with quotes which I have been told (as I haven't used Halfords before) were a reasonable price and also photographed these recommendations which showed on my invoice. I am impressed and will be using Halfords again.
Easy to book
Easy to book, friendly service - will definitely use again.
I was in a difficult position as I had…
I was in a difficult position as I had a flat tyre. I drive a Tesla and the rear wheel that was flat had a budget tyre fitted. I assumed it was a puncture, however, I was told that the tyre was 'out of shape' and could not be repaired! I ended up having to purchase two new tyres at £300 each total £600. It would have been nice when spending this amount to clean the crap left on by the fitting. The service was good but was let down by; a)inflated tyre costs b)not cleaned wheels When I asked about the wheel cleaning, I was told that no it was a trip to the car wash.......