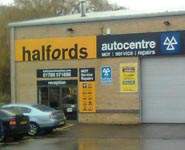 Halfords Autocentre Rugby
3 Westway (behind Home Bargins) Rugby , CV21 2DQ
What customers are saying about us
Not happy with the service.
I have been using Halfords Autocentre in Rugby for many years but this is the first time that I have only given them 3 stars. The MOT and service were carried out satisfactorily but my gripe is that they failed to tell me that they were short staffed and that my car would not be ready by 4.30 pm as is usual. When I phoned at 4.30 I was told that I had been phoned earlier to say that my car would not be ready until the next day. I HAD NOT BEEN PHONED. My car was ready next morning but I had to make special arrangements to get into town to pick it up. Not happy.
Friendly
Friendly, professional and good value.
Job was done very effectively but there…
Job was done very effectively but there was a problem but was very efficiently corrected