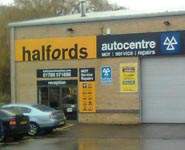 Halfords Autocentre Rugby
3 Westway (behind Home Bargins) Rugby , CV21 2DQ
What customers are saying about us
Best place to go
Best place to go
Excellent communication.
Excellent communication. Work done on estimated time.
Mr Costa
POWER STEERNG PROBLEM
I SET OFF TO DRIVE TO MY FRIEND'S HOUSE AT 9AM ON WEDNESDAY, 22ND JANUARY AND REALISED IMMEDIATELY THAT I HAD A PROBLEM. I LIVE VERY NEAR TO THE CORPORATION ST CENTRE AND RANG THEM TO ASK IF I COULD ' Read more...BRING THE CAR STRAIGHT ROUND'. I WAS TOLD THAT - ALTHOUGH THEY WERE BUSY AND FULLY BOOKED - IT WOULD BE OKAY FOR ME TO DO SO......THE CLANKING SOUND BEING EMITTED WAS DIAGNOSED AS A PROBLEM WITH THE POWER STEERING AS I LEARNED SOME 1 1/2 HOURS LATER. I SENT MY REVIEW BEFORE I MEANT TO AND FEEL I SHOULD NOW ADD THAT MY CAR'S PROBLEM WAS COMPLETELY ERADICATED BY 4.30 THE SAME AFTERNOON, TO MY IMMENSE RELIEF AND SATISFACTION. I WOULD NOT HESITATE TO RECOMMEND THE STAFF AT THE LOCAL BRANCH TO ANYONE. tHEY ARE UNFAILINGLY COURTEOUS AND HELPFUL AT ALL TIMES. WELL DONE, ONE AND ALL!
Having used Halfords before I was
Having used Halfords before I was expecting an excellent level of service. I was not disappointed. All I had asked to be done was finished by the end of the day and the man behind the desk was still s Read more...miling! Heartily recommend them to anyone.
Brilliant customer service
Brilliant customer service, thank you.
MOT was done promptly and car was ready
MOT was done promptly and car was ready when the garage stated
Honest
Honest, straight forward communication. Did the job professionally without a hitch
Mrs THORNTON-WEEKS
Very efficient
Very efficient, professional and pleasant experience. Easy online booking. Will definitely use again and will recommend to other people.
Annual MOT visit
Efficient service always, very polite and professional.