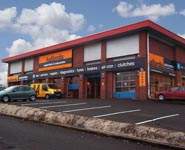 Halfords Autocentre Redditch
Redditch Ringway Town Centre Redditch , B98 8DU
What customers are saying about us
There are cheaper places but the staff…
There are cheaper places but the staff looked after me really well and despite being really short staffed due to Covid, they managed to get my tyre done in under an hour even with a backload of cars on the deck so all in all I'm happy with them.
Excellent service
Excellent service
Wasted journey as tyres weren't at the Autocentre
Summary: Great technicians in the Autocentre, let down by an unreliable business operation and poor customer support. I ordered my tyres during the Xmas break. The price was good and a good fitting appointment was available. I used the tracker that confirmed everything was okay for my appointment. When I arrived at the Autocentre I was advised that the tyres hadn't arrived, as the supplier was shut down for Xmas. There was no apology, and no explanation as to why I wasn't contacted, earlier in the day, to save the wasted journey (this was an afternoon appointment). The next appointment offered was three days later. I live in a rural area 20+ mins from the Autocentre, so it wasn't great having the time and cost of a second trip. Plus it meant driving on a skinny space saver spare for three more days. I emailed the Halfords customer service team, to try to get this moved to be a mobile fitting but got no response at all. The tyres were fitted on the second visit, and were properly balanced, so no complaints with the quality of work. If I were to use Halfords again, I would phone ahead of time, to check the tyres were present, as the website appointment scheduling and tracker don't seem to take tyre delivery to the Autocentre into account.