Energizer Rechargeable Power Plus AAA 700 mAh 4 Pack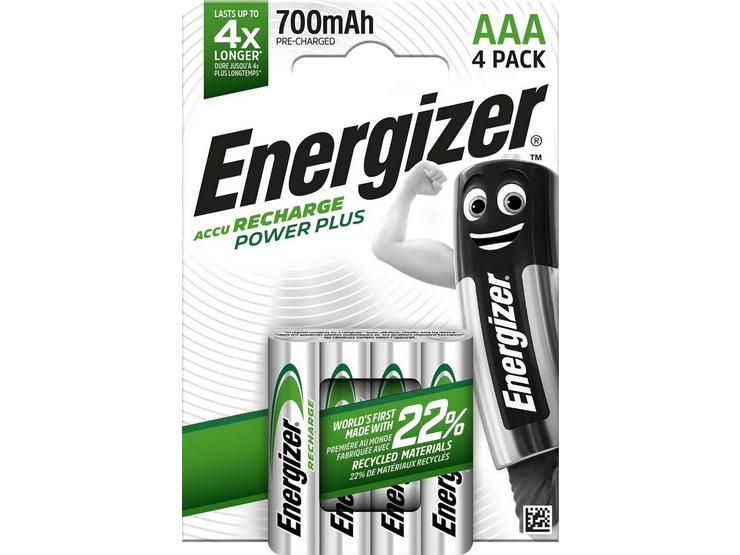 10 people are viewing now
5 purchases during last 48 hours
Energizer Rechargeable Power Plus AAA 700 mAh 4 Pack
Energizer Rechargeable Universal AAA Batteries BP4 pack
Keep your family fully powered every day with long-lasting Energizer Recharge Universal Rechargeable Batteries. These rechargeable batteries come pre-charged and ready to go when they arrive on your doorstep. Each Energizer Recharge Universal AAA battery can be charged and used up to 1,000 times. Don't feel like using your charged-up batteries right away? The charge lasts up to 12 months in storage. Charge up your batteries with any Energizer Recharge Charger, then power up your everyday devices toys, remote controls, and clocks, and keep the power going.
Environmental responsibility meets inspired technology – introducing the world's first AA/AAA rechargeable battery made with 4% recycled batteries. Now you can save money and have less impact on the planet by reducing the number of disposed batteries, creating less waste. By using Energizer Recharge® batteries for digital cameras, handheld GPS devices, wireless gaming systems, toys, you name it – you can experience the convenience and value of innovative, industry-leading rechargeable battery technology.
Energizer Recharge® rechargeable AA and AAA batteries come pre-charged and ready to go, providing reusable power for the devices you love.
Features & Benefits:
4-pack of Energizer Recharge Universal 500 mAh NiMH AAA rechargeable batteries
The world's 1st rechargeable AAA battery made with 4% recycled batteries
One charge allows you to enjoy up to 2 hours of toy activity (results vary by device and usage)
Energizer Recharge Universal batteries come pre-charged and ready to go
Each battery can be charged up to 1,000 times, with a charge that can last up to 12 months in storage
Up to 5-year usable battery life under typical usage patterns
Energizer is the world's No.1 rechargeable brand, based on scan sales
Recycled battery innovation comes to Energizer Recharge® batteries
Can be charged up to 1,000 times
Innovative construction gives you more charges vs. Energizer Recharge® Power Plus batteries, plus they hold their charge for up to 1 year in storage
Charge lasts up to 12 months when not in use
World's #1 recharge brand, according to market survey data
Up to 5-year battery life when of total usable life under typical usage patterns
Batteries come pre-charged