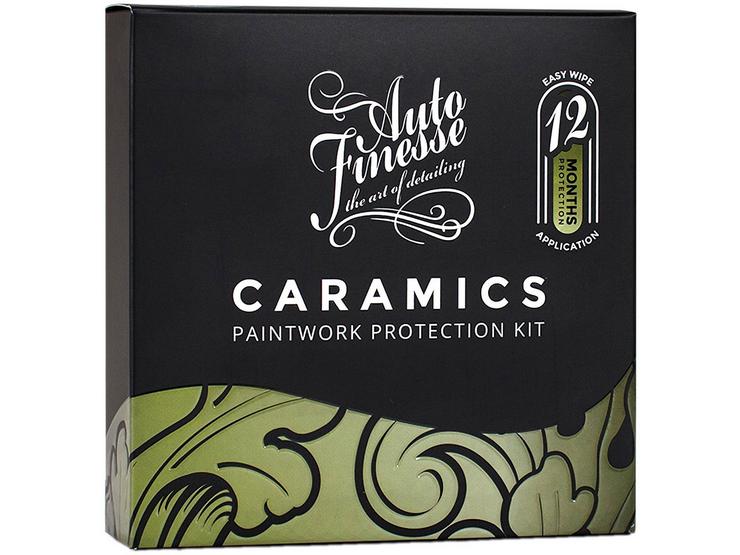 10 people are viewing now
5 purchases during last 48 hours
Cleaning Stage : Protection
Suitable for : Paintwork
Auto Finesse Caramics Paintwork Protection Kit
The Auto Finesse Caramics Paintwork Protection Kit is the ultimate kit for long-lasting protection and gloss for your vehicles paintwork. It brings a professional quality protection to your car. The Caramics ceramic resin technology bonds your paintwork, gives a flawless protection, and provides beading and easy clean properties that not only make your car pristine, but also help keep it looking better for longer.
Features & Benefits:
2 x 100ml Prep-Spray
8 x Ceramic Resin Wipes
Protective Gloves
Instruction Guide
Sticker Emblem
For further information, detailed video guides and helpful advice please visit: www.autofinesse.com/caramics
Step by Step guide:
Step 1: Wipe down all paintwork with Caramics Prep-Spray by spraying on to a microfibre towel and then wiping over the surface. This stage ensures the maximum bond between the coating and your paintwork.
Step 2: Open the first of your ceramic resin wipes carefully. Begin by applying to one panel at a time. Start in the middle of a panel and spread evenly across the entire surface in cross hatched, straight lines, to ensure complete and even coverage.
Step 3: Let cure for 1-2min MAX.
Step 4: Use one microfibre towel to initially remove the bulk of the residue, and another separate microfibre towel for the final buff.
Step 5: With your separate microfibre give the area a final buff ensuring all residue and smears are removed. It is advised to use a bright, defused light source to ensure all residue is completely removed at this stage.
Step 6: Repeat accordingly on the next panel/section of your vehicle.
Step 7: Ensure your vehicle is not exposed to the elements for at least 6 hours.
Hazards & Warnings

Danger: Highly flammable liquid and vapour
Danger: May be fatal if swallowed and enters airways

Danger: Causes severe skin burns and eye damage

Warning: Causes serious eye irritation

Warning: May cause drowsiness or dizziness