Back to results
Wiper Blades Buyers Guide + Video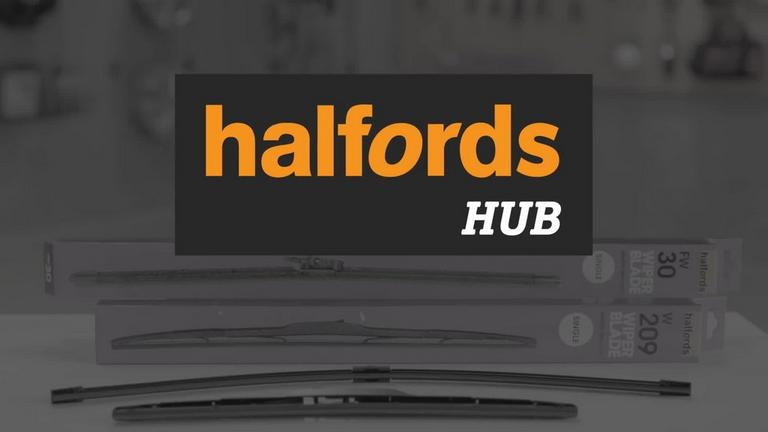 A good, clear windscreen is vital for safe driving - read our buyer's guide to learn about the different types of wiper blades we've got at Halfords.
Let's face it, the UK's unpredictable weather would leave you stranded at the side of the road if it weren't for these handy car components! Windscreen wipers not only wipe away rain and snow, but also help to clear salt, dead insects and general grime from your windscreen.
However, like everything else on your car, your wiper blades will suffer from wear and tear over time, so you'll definitely need to replace them at some point. Our handy buyer's guide will help you to understand the different types of wiper blade and how they'll keep your windscreen clean and streak-free.
When should you get new wiper blades?
---
This depends on how often you use your windscreen wipers and the different conditions your car is exposed to. Rubber deteriorates in hot, cold, wet or dry weather, so we recommend changing your wipers every 12 months, or if you experience any of the following:
Juddering on the screen
Noise or squeaking across both dry and wet screens
The blade feels worn down or has notches when you run a finger down it
Your blade leaves streaks or unwiped areas on the windscreen
What types of wiper blade are there?
---
One of the most common blade styles are conventional wiper blades. These blades have a small rubber strip attached to a metal holder and usually match the original wiper blades that came with your vehicle.
Flat wiper blades on the other hand sit lower on the windscreen and put more pressure on the glass, giving a better wipe and offering less air resistance, which keeps noise down when travelling at faster speeds. They're also a great replacement for conventional wiper blades.
Check Out Our Flat Wiper Blades »
Which wiper blades do I need for my car?
---
The easiest way to find the right wiper blade is to check on the wiper blade section of the Halfords website. Just enter your registration and we'll show you which blades are compatible with your vehicle.
Take me there »
---
You can also find the right replacement wiper blade by looking in your car's owner manual, on the side of the old blade or potentially even on the box of your new blades – just look for your cars make or model on the packaging or leaflet.
Which are the best windscreen wipers?
---
At Halfords, our most popular brands are Bosch and our own Halfords brand. Both brands are brilliant options and there aren't any major design differences, so you'll likely have a choice between the two. The key thing to consider is that Halfords blades will do the same job as Bosch blades and last just as long, but you won't be paying a premium for the Bosch reputation.
What do wiper blade numbers mean?
---
The numbers you'll see on the wiper blade box are there to help you choose the right blade quickly – you'll find the blade product number in your car owner's manual or on the old blade itself, so you just need to look out for the right code when it comes to replacing!
How to clean wiper blades
---
When you're giving your car a good scrub, don't forget to give your wiper blades a wipe too! Just use the same hot soapy water you're using to clean the paintwork and run your cloth along each one.
How to fit wiper blades
---
Step One: Lift up your wiper arm from the screen
Step Two: Unclip the old wiper blade, either by sliding the blade out of the clip system or pulling it gently off the arm. Be very careful not to let the arm snap back onto the windscreen, as this could cause damage.
Step Three: Clip your new wiper blade onto the arm, taking care to ensure there's a firm 'clicking' noise or feeling. Give it a wiggle to make sure it's secure.
Step Four: Replace the arm and blade slowly onto the windscreen. If it doesn't look straight, or the whole blade doesn't sit on the glass, then it hasn't been fitted correctly.
Repeat the process for the other three (or more) wiper blades on your car.
---
If you don't fancy damaging your windscreen or can't get the fiddly clip undone, then head to your local Halfords. We'll happily fit your new blade while you wait. Don't forget to ask for a free 5-point car safety check too, where we'll make sur your wipers, battery bulbs, screen wash and oil levels are all ok too!
Book Your Blade Fitting »