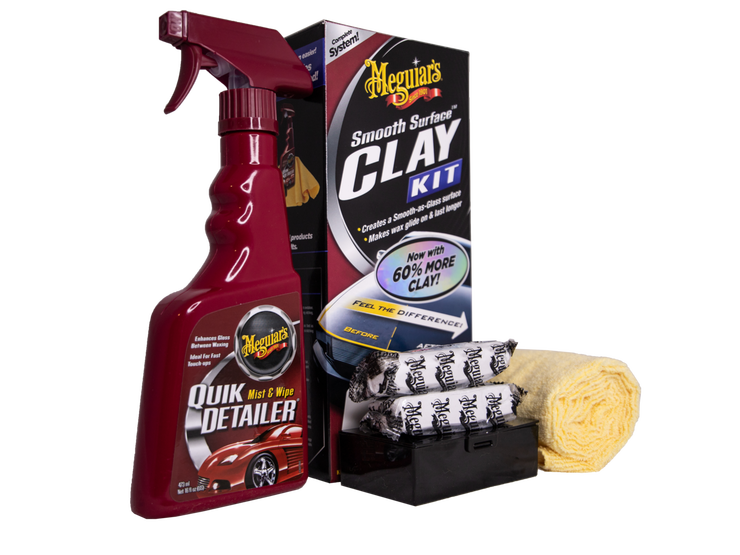 10 people are viewing now
5 purchases during last 48 hours
Cleaning Stage : Decontamination
Suitable For : Paintwork
Meguiars Smooth Surface Clay Kit
The Meguiar's Smooth Surface Clay Kit helps you remove bonded contaminants on your vehicle and leaves a smooth and clean surface.
Contaminants like tree sap, overspray and industrial fallout bond to your paint's finish, making it 'gritty' and lacklustre. The Meguiar's Quik Clay Starter Kit quickly and safely restores a smooth-as-glass finish. Polishes and waxes can then be applied and wiped off in less time with dramatically improved results.
Meguiars Clay Bars: Two individually wrapped 80g clay bars to provide safe, effective removal of bonded surface contaminants. They come complete with a plastic storage case to prevent them from drying out or gumming up over time.
Quik Detailer: Meguiars Quik Detailer 473ml can be used anytime, anywhere to remove fresh contaminants before they bond or etch into your paint finish. Used as a clay lubricant, the Quik Detailer prevents the clay bar from sticking to the paint.
Supreme Shine Microfibre: Meguiars' premium dual-sided microfibre towel provides amazing mirror-like shine on all finishes. Used in conjunction with Meguiars waxes and detailers, the Supreme Shine microfibre delivers amazing scratch-free results quickly and easily.
Remember, claying is the quickest and easiest way to guarantee the long-term integrity and appearance of your paint finish.
Features & Benefits:
Non-abrasive clay bar safely, easily & instantly removes contaminants
Eliminates water and detergent spots with efficiency
Suitable for use on various surfaces
Increases the durability of sealants and waxes
Application:
1) Mist the Quik Detailer onto the panel and clay bar.
2) Slide the clay bar over the lubricated surface until the contaminants are removed. If the clay becomes dirty, fold and knead to a clean side.
3) Wipe the surface dry with a clean microfibre and evaluate the surface.
4) Repeat steps 1 & 2 until the surface is as smooth as glass.