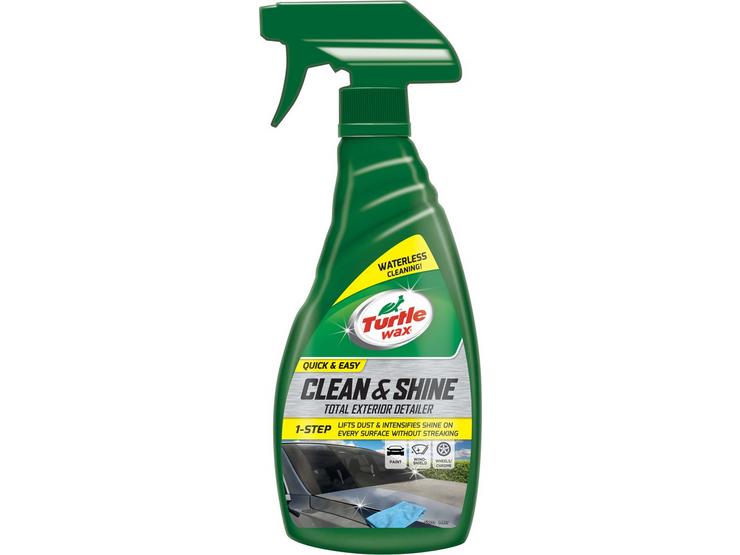 10 people are viewing now
5 purchases during last 48 hours
Cleaning Stage : Detailing
Suitable For : Paintwork
Turtle Wax Clean & Shine Exterior Detailer 500ML
Turtle Wax Clean & Shine Total Exterior Detailer 500ML is a 2-in-one formulation that cleans and waxes without the need for water. Powerful streak-free formula is safe to use on all exterior surfaces, including paint, metal, plastic and glass.
Clean and refresh your entire car from roof to wheels with Quick & Easy Waterless Car Wash.
This waterless car cleaner works like magic to clean your car exterior without a single drop of water.
But the secret behind this waterless cleaner isn't magic; it's science.
Advanced, dirt-attracting polymers condition the soils on the surface of your car as you wash and give them a magnetic charge, lifting them into the fibres of your cloth.
This means you never scrape those abrasive soils across your car exterior, preventing scratching and streaking across your flawless finish.
Features & Benefits:
Turtle Wax Clean and Shine Total Exterior Detailer 500ml is a 2-in-one formulation that cleans and waxes without the need for water
Dirt-locking polymer technology encapsulates the dirt and grime for a scratch-free clean
Wax enriched for the shiny, protective finish on all clear coats and metallic paintwork
Apply in direct sunlight and boost shine with no streaking or paintwork spots
The perfect solution for cleaning where access to water is limited
Deep cleans your entire car in one quick and easy step
Application:
1) Spray product directly onto a 2' x 2' panel until fully saturated.
2) Use a microfiber cloth to lightly wipe the area until all dirt and soils have been lifted.
3) Turn over your cloth and gently polish to a high-gloss shine.
4) Repeat steps on each 2' x 2' panel, starting from the roof of your car and working your way down until you have covered the whole exterior.