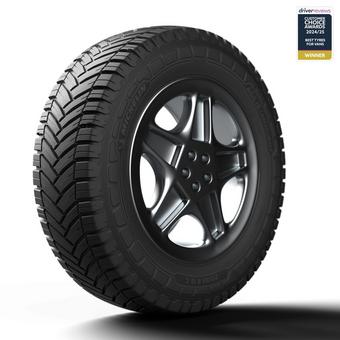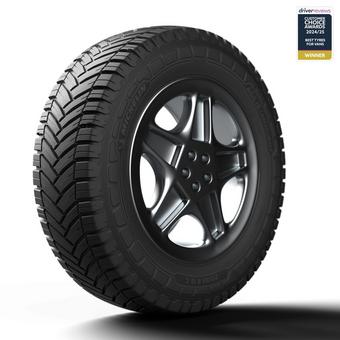 15% off
4 tyres when using our mobile fitting service.
Enter code:
BF15 at checkout
*Subject to availability.
T&Cs apply
The Michelin Agilis CrossClimate provides safety, no matter the weather.
all-season
The Michelin Agilis CrossClimate is what your business demands, keeping you on the road all year round. It has superior grip on wet roads. The tyre has A-rated wet grip in both summer and winter conditions. It has also excellent traction on snow and is 3PMSF (3-peak-mountain with snow-flake) certified. It's unique V-shaped tread pattern has large blocks to maximise traciton on all terrain types. The tyre has also been designed with unique kerbing shields to protect against sidewall damage.
Agilis CrossClimate Extra Information
Safety, no matter the weather
Optimal traction on all terrain types
Reinforced for robustness
Other tyres in this range
Tyre Variation
Features
Availability
Price
Michelin Agilis CrossClimate (205/65 R16 107/105T) 73CA
all-season
In Stock
£133.99
Michelin Agilis CrossClimate (205/70 R15 106/104R) 73CA
all-season
In Stock
£123.99
Michelin Agilis CrossClimate (215/75 R16 113/111R) 73CA
all-season
In Stock
£168.99
Michelin Agilis CrossClimate (205/75 R16 110/108R) 73CA
all-season
In Stock
£128.99
Michelin Agilis CrossClimate (215/75 R16 116/114R) 73CA
all-season
In Stock
£159.99
Michelin Agilis CrossClimate (205/75 R16 113/111R) 73CA
all-season
In Stock
£143.99
Michelin Agilis CrossClimate (185/75 R16 104/102R) 73CA
all-season
Low Stock
£120.99
Michelin Agilis CrossClimate (225/65 R16 112/110R) 73CA
all-season
In Stock
£153.99
Michelin Agilis CrossClimate (215/60 R16 103/101T) 73CA
all-season
In Stock
£145.99
Michelin Agilis CrossClimate (195/65 R16 104/102R) 73CA
all-season
In Stock
£122.99
Michelin Agilis CrossClimate (225/70 R15 112/110R) 73CA
all-season
Low Stock
£127.99
Michelin Agilis CrossClimate (215/65 R15 104/102T) 73EA
all-season
In Stock
£142.99
Michelin Agilis CrossClimate (195/70 R15 104/102T) 73CA
all-season
In Stock
£96.99
Michelin Agilis CrossClimate (225/70 R15 112/110S) 73CA
all-season
Low Stock
£132.99
Michelin Agilis CrossClimate (215/65 R16 106/104T) 73CA
all-season
In Stock
£132.99
Michelin Agilis CrossClimate (195/75 R16 107/105R) 73CA
all-season
Low Stock
£110.99
Michelin Agilis CrossClimate (225/75 R16 118/116R) 73CA
all-season
In Stock
£169.99
Michelin Agilis CrossClimate (215/65 R16 109/107T) 73CA
all-season
In Stock
£135.99
Michelin Agilis CrossClimate (195/75 R16 110/108R) 73CA
all-season
Low Stock
£116.99
Michelin Agilis CrossClimate (225/75 R16 121/120R) 73CA
all-season
In Stock
£183.99
Michelin Agilis CrossClimate (215/70 R15 109/107R) 73CA
all-season
In Stock
£130.99
Michelin Agilis CrossClimate (205/65 R15 102/100T) 73CA
all-season
In Stock
£118.99
Michelin Agilis CrossClimate (235/65 R16 115/113R) 73CA
all-season
In Stock
£157.99
Michelin Agilis CrossClimate (215/70 R15 109/107S) 73CA
all-season
In Stock
£130.99
Michelin Agilis CrossClimate (235/65 R16 121/119R) 73CA
all-season
In Stock
£172.99
Michelin Agilis CrossClimate (225/55 R17 109/107H)
all-season
In Stock
£175.99
Michelin Agilis CrossClimate (225/55 R17 109/107T)
all-season
Low Stock
£173.99
Michelin Agilis CrossClimate (235/60 R17 117/115R)
all-season
In Stock
£195.99
Michelin Agilis CrossClimate (225/55 R17 104/102H)
all-season
Out of Stock
£196.99
Michelin Agilis CrossClimate (215/60 R17 109/107T)
all-season
In Stock
£176.99
Michelin Agilis CrossClimate (195/60 R16 99/97H) 73EA
all-season
In Stock
£128.99
Michelin Agilis CrossClimate (225/60 R16 105/103H) 73CA
all-season
In Stock
£171.99