Back to results
How to Ride a Balance Bike Guide + Video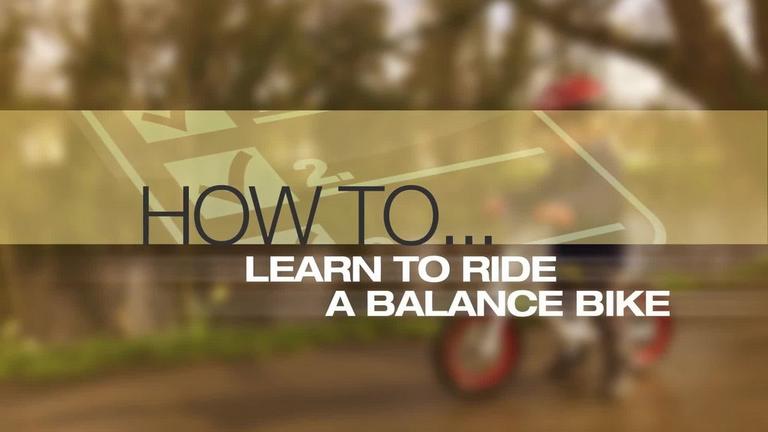 Teaching your kids to ride a bike? A balance bike can be a great start! Take a look at our guide to find out how to learn to ride using a balance bike.
How to Ride a Balance Bike
If you're looking to teach your kids to ride a bike, a balance bike can be the perfect start. They're basic, child-friendly bikes that teach your little one the art of balance and steering without having to worry about anything else.
If you've recently bought or are considering buying a balance bike, we've created a short guide about how to teach your child to ride one.
The first thing to do is to set the saddle height on the bike. The saddle should be lower than on a normal bike, so that your child can put both their feet flat on the ground even when they're sat on the seat.
If your balance bike has a brake, it's a good idea to start off by showing your child how to use this. Walk your child along with the bike, getting them to squeeze the brake, so that they understand how to slow down and stop if they want to.
To begin with, your child won't be very confident, and will either walk the bike or just take small steps whilst sat on the bike. Don't worry, this is completely normal! They probably won't be lifting their feet up or rolling away quite yet, but just give them some support while they get comfortable with the bike and the steering. Don't touch the handlebars or steer for them, because they'll need to learn to do this for themselves. If you need to support them or stop them from falling, hold them under their arms, or hover your hands close to them to give them confidence.
After practising until they feel more confident, your child will progress to being able to slowly scoot along and steer the bike to go where they want to.
Over time, your child will progress to running along. Eventually they'll start taking long strides where both feet are off the ground. Encourage them as they do this, and give them support if they need it as they lift up their feet for longer. At this point, you might start finding it more difficult to get them off their bike and in for dinner!
Once your child is happy gliding along with their feet off the floor, it's time for them to move on to a bike with pedals. If you like, you can give them some stabilisers to start with, so they learn the pedalling motion, but this will probably only take a few minutes for a confident child. Because they've already learned how to brake and balance, they should be well on the way to adventuring on their own.
Always remember that learning to ride a bike is different for every child. Some may take a bit longer than others to lose the wobbles and gain more confidence. It's important to be patient and supportive, and make sure your child feels confident before moving on to the next stage. After all, it's not a race… yet!
Teaching your kids to ride using a balance bike is a really simple and natural process that kids will love, and a great skill that will stay with them for the rest of their lives. Pop in to your local Halfords store or visit us online to find the right balance bike for your little one!
View all Balance Bikes