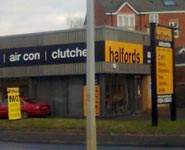 Halfords Autocentre Northampton
St James Road Northampton , NN5 5HU
What customers are saying about us
Excellent service from Northampton…
Excellent service from Northampton branch.
Have used Halfords in Northampton…
Have used Halfords in Northampton several times and always had good service and always on time. Would definitely recommend.
Replacing 4 tyres & tracking fiasco
If I could give no stars then that is the score I would give. I booked my car in to replace 4 tyres and 4 wheel tracking on 1st December 2021 at Halford Autocentre, Northampton. I booked my car in for 8.30am believing the work would be finished before 10am so I could pick up my car and go out on visits for my job. When I asked if this would be the case I was told it would be and I would be rung when the work was complete. As I'd not heard anything I rang at 10am to confirm I could collect the car only to be told the work was just starting? What is the point of booking an appointment slot if the work doesn't start then? I was then rung just before lunch to advise my car was ready. I picked it up. Although all 4 tyres were replaced the tyres were not balanced and the tracking was off making it feel like I was constantly driving on cobbles with a lean to the right. I rang on Friday advising of the issues and was told to bring the car in. Only to be told when I went in that there were no slots to fix the car and I had to make an appointment to get the work completed but this was only after I had been patronised by the manager asking if it veered to the right because I was going round a bend? I felt unsafe driving the car that night as the steering felt very light and I didn't feel in control of the car. I went in on Saturday morning (a 40 mile round trip I wouldn't have had to make but for the poor work). I explained the problem and the man sitting at the counter alongside the manager became quite defensive asking me if I had sought advice from another garage to be sure the wheels had not been balanced and the tracking was off. He then suggested refunding the tracking cost & going to another garage! I just wanted the work I had paid for to be completed actually be completed. I again booked it in for 8.30am on Saturday advising that I had no reason to be in Northampton other than my car needed repairing again. I did not want to book a weekday as I need my car for visits and given I missed one on the Wednesday I did not want to take that risk again. My car was ready for collection at 10am & I drove home and it seems to be running ok now, however, that was the case initially when I collected it on 1st December and as I am working from home for the next couple of days I am hoping that will remain the case when I need to start using it again on Wednesday. I was warned that Halfords was not a good place to get your car serviced but assumed that they could not mess up replacing tyres, however, it seems that you are not able to carry out that work either?