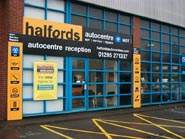 Halfords Autocentre Banbury
Marley Way Southam Road Banbury , OX16 2RL
What customers are saying about us
The work carried out was good the only…
The work carried out was good the only issue was a much longer wait than we were told.
Simple and safe
The whole process from booking to collecting the car after the service was both simple and safe. The staff I dealt with were informative and helpful.
Had ordered diagnostic check
Had ordered diagnostic check - ended up with gas service- as diagnostics all fine. Rather expensive and more than bargained for - was not offered anti bac clean (£20) which was probably what was needed. Some years back it was all a bit clearer (and cheaper (for me)).