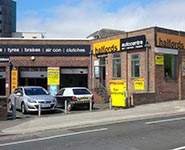 Halfords Autocentre Plymouth (Exeter St)
122 Exeter Street Plymouth , PL4 0AS
What customers are saying about us
AIR CON Foul Odour
Suffering from a foul odour from the air conditioning system after use, I took the vehicle to Halfords auto centre of Plymouth whereby they conducted a full and FREE system health check. No re-gassing was required but an anti bacterial flush was conducted of the Air Con system and now it smells fresh as a daisy. Halfords conducted a fast and efficient service with personable customer service. Great Job!
Checked my car in for an MOT
Checked my car in for an MOT, it failed on a couple points (not surprising, its an older car). Halford quoted me £665 for repairs, when I spoke to another garage they quoted a much more reasonable £340. Going to pick up my car it was then explained to my father that they quoted so high because they are unable to do the specific job so were going to replace the whole suspension system - which isn't actually needed. I'm always cautious about the stereotype of young girl takes car to a garage and gets ripped off, but thought Halford were trustworthy - apparently not.
Gradually going down hill due to Investment company owners putting profit before people and customer service
Originally gave 3 but not that good I'd probably give more like 2.5 but they dont allow that and 2 is probably reaction to continual errors Since profit motivation took over from powers that be Halfords customer service is a lot worse than it used to be. Still a few bright beans though. Well Garage, Exeter street certain car has been in for work to be looked at or done 4 or 5 times since I got it in July. Bottom line if you have a BMW X5 then don't go to Halfords unless its really basic stuff. Also It was supposed to have gone in for a full inspection as still quite a few things to be done on it. When it was taken in told oh no only in for a basic 5 point check... this happened last time. Losing my patience and now Halfords losing my trade because of ongoing incompetence somewhere. Must admit young assistant manager was very good and at least had the time of day to discuss the jobs. £275 to replace a bonnet cable??? even if it needed 2 cables. Couldn't take engine covers off so it could be steam cleaned to look for oil leaks... didnt want to take the chance as its LPG converted and they were afraid in case anything went wrong. Oil sump gasket fair one there they wouldn't have known until they looked at it that it needed the sub frame dropping and possibly specialist tools... that being said if they had done all the checks as promised end of July/ August time I wouldn't have needed to bring it in yet again. If you have a standard car then you're probably OK but as they don't do basic electrical work, welding, gear box repairs/ servicing I wonder just exactly what they do do. Finally thought the independent BMW place was a bit pricey for servicing but labour wise £65/ hr v Halford £81.50 is a no brainer really. I used the services originally due to staff discount but have moved on from working for bikehut so will now unfortunately, be moving my cars and hard earned money elsewhere.