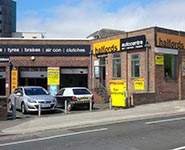 Halfords Autocentre Plymouth (Exeter St)
122 Exeter Street Plymouth , PL4 0AS
What customers are saying about us
Car M O T AND REPAIR WORK
I have recently taken my car to Halfords Autocentre for its annual M O T in Plymouth, unfortunately for myself, the car failed under inspection, to which I had a good insight that it would fail , I have never had any problem using Halfords Autocentre for a service or repair work , as a customer of theirs I've always had an honest opinion from them and the staff have actually saved myself expenses on the out-coming bill . I wouldn't say it's preferential treatment just a good and honest service from the company and staff . It's hard to find a garage who to trust nowadays and believe me I've had my share of rip off merchants . So your asking for an honest review of my experience and I'm giving you it ,
Brilliant & Professional Service
As always, the team at Exeter Street dealt with with 10,000 mile service effortlessly. I dropped it off first thing, and it was ready by lunchtime. I was advised of the need to change brake discs, pads and tyres in the near future, but everything else was good. I always feel at ease knowing that mine & my car's well being is in their hands, especially with the large number of miles that I travel. Thanks as always Exeter Street, Halfords team!!!!
Fast efficient friendly service.with…
Fast efficient friendly service.with helpful easy to understand advice.