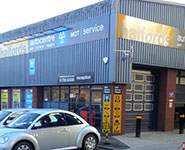 Halfords Autocentre St Austell
Unit 2a Pentewan Road St Austell , PL25 5BU
What customers are saying about us
MOT at Halfords
Had an appointment for MOT and was invited into reception 5 mins late The gent on reception apologised for the delay and explained the reasons for it totally justified.He suggested a pick up time for my car and pointed me towards a cafe where I could have a cup of coffee and a sit inside or outside.I returned at the time suggested to be told my car had passed its MOT I paid and left.All in all the service at Halfords was second to none.Thankyou very much.
Shocking experience
Shocking experience. Failed MOT on 2 rust areas and indicator bulb plus emissions. Took back few weeks later, after welding done at another garage and it failed on NINE MAJORS. and it even had completely different advisories! Had it checked by a third garage, same day, and 4 mechanics checked it over on the ramp...they said only ONE of the areas of corrosion present constitutes an MOT fail... this after Halfords MOT tester told me to get rid of my car and buy another!!! It only has 83K miles on it. Check for yourself (MOT history) to see this is true LT56 LPF Sharan
Great service ,friendly helpful staff
Great service ,friendly helpful staff. St Austell Cornwall autoservices you rock!