Cosatto Judo Group 1/2/3 Isofix Car Seat - Mister Fox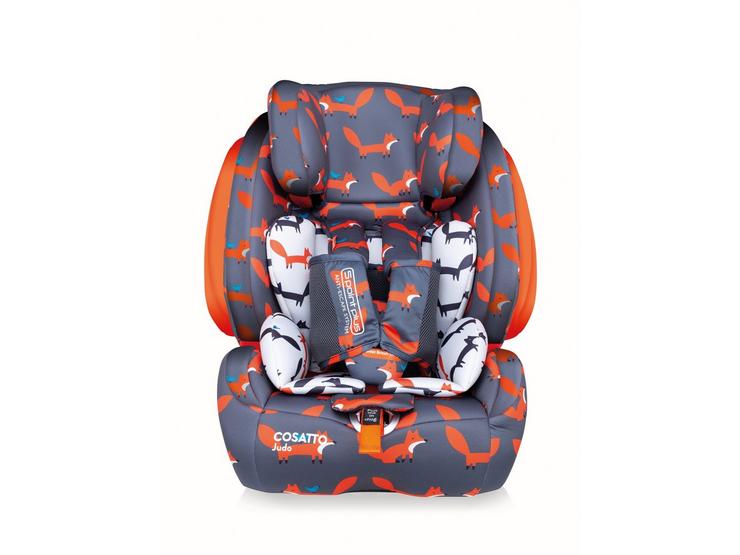 10 people are viewing now
5 purchases during last 48 hours
Cosatto Judo Group 1/2/3 Isofix Car Seat - Mister Fox
Group : 1/2/3
I-Size : No
Rotating Seat : No
Cosatto Judo Group 1/2/3 Isofix Car Seat - Mister Fox
Group 1/2/3 car seat
Suitable from 9kg to 36kg (9 months to 12 years approx.)
Forward facing
Uses ISOFIX anchor points
Universal ISOFIX (requires top tether)
5 point plus anti-escape harness
Belted in all modes (1/2/3), ISOFIX mode for group 1 & ISOFIT for group 2/3
Double side impact protection
Washable covers
Removeable liner
Adjustable harness
2 position recline
Belt cover flap
4 Year Guarantee
The
Cosatto Judo Group 1/2/3 Isofix Car Seat - Mister Fox
is an easy to use, lightweight ISO(FIX) car seat that's suitable for Group 1/2/3. Thanks to several versatile and clever features, Judo is the premium protector you need.
With double side impact protection and a 5 point plus anti-escape harness, the Cosatto Judo ISO(FIX) car seat will keep your little one safe and secure. Judo uses your car's ISO(FIX) anchor points for additional security and for use in a wide variety of different cars.
Suitable from 9kg – 36kg (9 months – 12 years old approx), Judo is suitable when belted in all modes (1/2/3) and includes ISOFIX mode for group 1 and ISO(FIT) for group 2/3 ensuring safety and stability through all stages.
This ISO(FIX) car seat has an adjustable harness, washable covers with a removeable liner and a 2 position recline function making this Group 1/2/3 car seat versatile and easy to use.
Judo comes with an industry-leading 4-year guarantee for your peace of mind and is crafted with Cosatto's famous storytelling patterns that kids love. In tests, 8 out of 10 kids chose Cosatto for a reason and the Judo ISO(FIX) car seat will really fire their imagination.
Safety warning:
Never put a child in a passenger seat fitted with an active front airbag. Airbags are designed to protect adults but can have the opposite effect on children.
Try to keep journeys for newborns up to 4 weeks old no longer than 30 minutes, and for older babies no longer than 2 hours. It is good for your baby to lie flat for most of the day, so if you do need to make a longer trip ensure that you take regular breaks to allow your little one to stretch out for a while away from their car seat.
Size guide
| Car Seats | Baby | Toddler | Child |
| --- | --- | --- | --- |
| Weight (kg) | 0 - 19kg | 9 - 36kg | 15 - 36kg |
| Weight (lbs) | 0 - 42 | 20 - 80 | 33 - 80 |
| Height (cm) | 40 - 105 | 70 - 135 | 100 - 135 |
| Height (Inch) | 1' 4" - 3' 6" | 2' 4"- 4' 5" | 3' 4" - 4' 5" |
| Age | 0 months - 4 years | 9 months - 12 years | 4 - 12 years |