BAHCO
Bahco tools respond to a clear need. Produced by professionals, they set high standards in terms of quality, ergonomics, comfort and safety.
Around 15,000 Bahco products embody these values in a comprehensive range designed for customers in industry, aviation, the automotive sector, construction, garden and landscape management, fruit growing and wine cultivation.
The company constantly collaborates with the professionals that use their tools, and responds to evolving demand and changing habits with innovative tools that provide the highest level of performance, efficiency and quality.
Discover Bahco products online at Halfords now
BAHCO AUTOMOTIVE TOOLS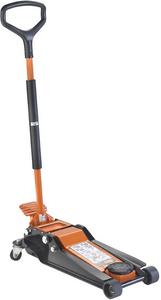 The Bahco 3T Extra Compact Trolley Jack's dual pistons reduce the number of strokes required by 50%.
In environments where speed, durability, strength or vehicle-specific requirements play a major role, Bahco provides specific solutions. Bahco's range of more than 1,000 automotive tools are renowned for their consistent performance, safety, comfort and long service.
The Bahco 3T Extra Compact Trolley Jack is designed to lift the widest range of standard vehicles. With dual pistons to reduce the number of strokes, an approach pedal, rubber support and protected steel wheels, it's the most in-demand hydraulic jack on the market.
Shop Now
Bahco offers storage solutions with ultimate performance, unrivalled flexibility and optimum safety.
The Bahco 1472K7 7 Drawer Tool Trolley has a large capacity and a heavy-duty construction. Its double wall frame protects the slides and drawers from shocks/crashes, and reinforced areas help to reduce stress in specific points of the trolley. The trolley has long ball bearing slides with 100% opening drawers and click/detent closing. In addition, it has a strong and secure round type key and a central locking mechanism to keep tools safe.
Shop Now
BAHCO SOCKETRY TOOLS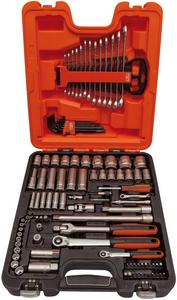 The Bahco 103pc Socket Set 1/4" & 1/2" contains a variety of popular sizes in a handy carry case.
Efficiency and productivity always come first with Bahco socketry tools. Designed for professionals working in technically demanding industries, these tools deliver great results in even the most challenging environments.
Bahco socket sets, such as the Bahco 103pc Socket Set 1/4" & 1/2", contain everything you'll need for tightening or loosening nuts and bolts on your car or motorcycle. All pieces snap securely into place inside the blow moulded case for excellent organisation.
Shop Now
ABOUT BAHCO
"Give me the saw with the little fish" – that's how everything started.
Bahco's origins date back to 1886, when the production of handsaws started in Sweden. A high-quality steel that had previously been moulded to produce fish hooks was introduced for handsaws and to communicate the blade quality, every saw carried the Fish & Hook trademark.
Since then, technical innovations, new materials and technological advances have shaped the ongoing evolution of the Bahco brand. At the heart of this evolution has been producing tools that respond to the needs of professionals and high-quality products that set the standard for quality, functionality and safety have become the company's benchmark.
Today, the Bahco range numbers around 15,000 products designed for a wide range of industries. The company has its finger firmly on the pulse of the market, designing and manufacturing tools and saws that are innovative, high quality and tailored to the most demanding professionals.