Brands - Bosch
Bosch Car Blades & Spark Plugs
The Bosch Group is a leading global supplier of technology and services. It employs roughly 40,000 associates worldwide.
Its operations are divided into four business sectors: Mobility solutions, industrial technology, consumer goods, and energy and building technology.


Bosch uses its expertise in sensor technology, software and services to offer its customers connected, cross-domain solutions from a single source.
Discover Bosch products online at Halfords now
Bosch Wiper Blades
Bosch Windscreen Wipers are engineered for extreme all-weather performance, allowing drivers full visibility no matter the weather conditions.
They're also manufactured to Original Equipment (EO) specifications, which means they're the same quality as the equipment used by your vehicle's manufacturer.
At Halfords, we stock a wide range of standard and flat, front and rear, Bosch wiper blades. These include the award-winning Bosch Aerotwin blades, which last longer than standard blades, provide a smoother and quieter wiping action, and include the patented Power Protection Plus coating (which optimises wiper performance).
The type of wiper blade that you need is dependent on your vehicle's make and model. To find the right wiper blade, simply use our online registration number checker and we'll show you the different options for your vehicle.
Some of our most popular Bosch blades are shown below.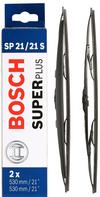 Standard
The Bosch SP26 Wiper Blade – Single offers superb wiper performance to ensure clear visibility in all weather conditions. The blade is manufactured to EO specifications and can be installed quickly and easily.
The same is true of the Bosch SP22/16S Wiper Blades – Front Pair. Both blades have an extended service life thanks to their superior quality and are ready to fit straight out of the box.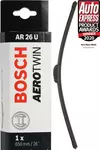 Retrofit Upgrade
Retrofit blades allow you to fit flat blades on a vehicle that normally takes standard blades. The Bosch Aerotwin Retrofit Single AR26U is a maximum-performance flat wiper blade that helps to provide perfect visibility and wiping performance, even at high speeds.
The blade is easy to install thanks to its pre-assembled adaptor and comes with the patented Power Protection Plus coating.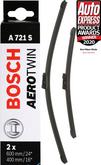 Flat
The Bosch AP26U Wiper Blade – Single is part of the Aerotwin range, which provide a clearer, smoother and quieter wiping performance. The unique wiper rubber developed by Bosch includes the company's patented Power Protection Plus coating, while the uniform contact pressure leads to longer service life.
Features of this blade and others such as the Bosch AM980S Wiper Blades – Front Pair include an aerodynamic spoiler and technologically tensioned metal strips that help to keep the blade closer to the windscreen, aiding visibility and reducing wind noise.
Bosch Chargers
Traditional battery chargers provide batteries with a steady current that doesn't take into account a battery's condition or age. They also only have one charging mode, which means you can run the risk of overcharging the battery and causing permanent damage.
The Bosch C7 Battery Charger and Bosch C3 Battery Charger are different. Using Smart Amps, these chargers can generate the optimum charge current for the condition of the battery and the current charging stage. They provide a fast, high-quality charge that helps to maximise the battery's lifespan, and also offer four and six charging modes respectively.
The integrated trickle charge function means that batteries can be monitored and reliably kept at a high charge level when they're not in use. The chargers can also be left connected to the battery and will switch automatically to the maintenance/trickle charging mode when the battery's fully charged.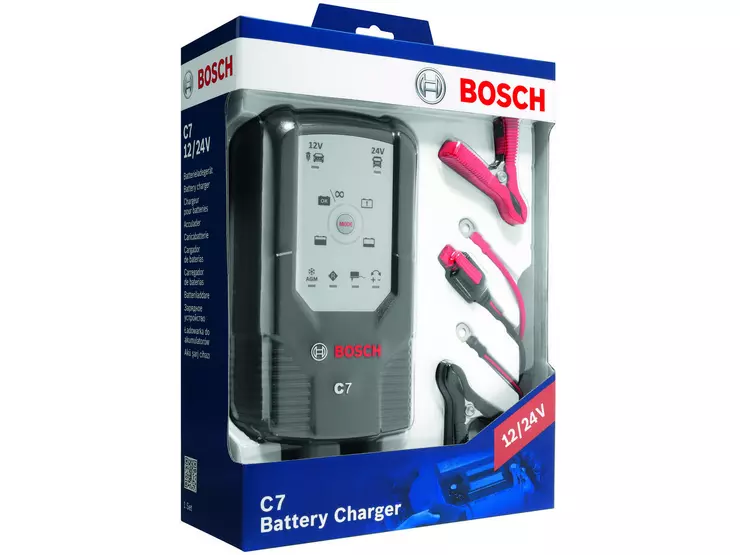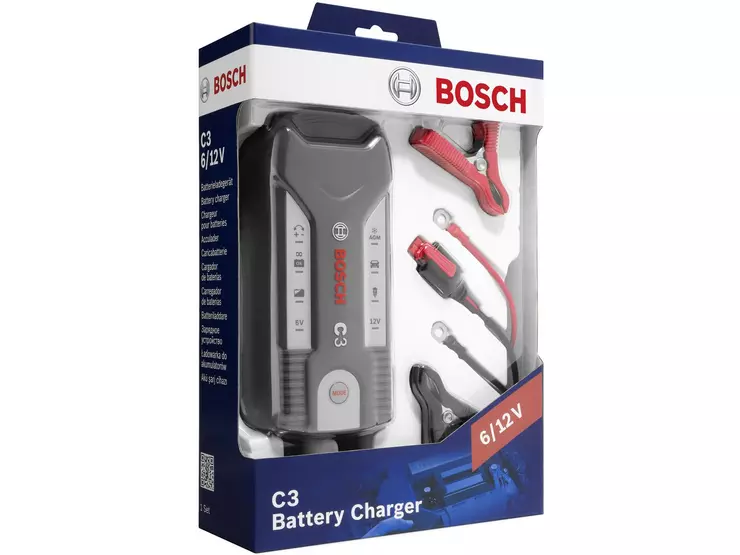 SmartAMPs Technology
Continuously monitors the condition of the battery at every phase to charge at the optimum current and avoid under- or over-charging.

Safe
Automatically protects against sparking, short circuiting, reverse polarity and overheating.
Automatic Shut Off
Automatically shuts off in situations when there is an open circuit, a battery is incorrectly connected or there's an abnormal charging time.
MCU Processor
Provides state-of-the-art charging to maximise the lifespan of your battery.
Cold/AGM Mode
Offers an optimal mode for charging stop-start batteries or batteries that are less than 5°C.
Recovery Mode
Recovers deeply discharged and sulphated batteries (voltage of 7.5-10 SV) with pulse charging.
One Touch Button
Easiest charger to use – simply plug it in, turn it on, select your mode and begin charging
All types of lead acid batteries
Safely charges AGM, wet, gel, open and VRLA batteries.
Regeneration Mode (C7 only)
Regenerates a short-term, deeply discharged battery (such as when you've left your car lights on overnight).
Constant Current Mode (C7 only)
Delivers a constant current to the direct current-enabled clips at all times.
IP65
Dust proof and splash water proof
Bosch Spark Plugs
Spark plugs are among the most important components in cars with petrol engines, being responsible for getting them reliably started.
They're also crucial for optimum engine performance and reliable operation.
Bosch has been at the forefront of spark plug technology for over 100 years.
While the company originally developed spark plugs to meet the needs of motor sport, that innovative technology was later incorporated into EO spark plugs for cars, motorcycles and more.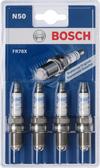 The FR78X Bosch Super 4 Spark Plug x4 is a great example of Bosch's innovation.
It operates on the state-of-the-art air-cushion-spark principle and is the world's first spark plug to feature four thin ground electrodes with one pointed, silver-plated centre electrode.
This provides a noticeable improvement in acceleration, improved engine smoothness and superior engine versatility

The FQR8LEU2 Bosch Spark Plug +57 x4 features a nickel-plated shell with rolled threads and provides both improved starting in cold weather and increased fuel ignitability.
BOSCH'S HISTORY AND FUTURE
Bosch offers innovative solutions for smart homes, smart cities, connected mobility and connected manufacturing. The company uses its expertise in sensor technology, software and services to offer its customers connected, cross-domain solutions from a single source. The Bosch Group's strategic objective is to create solutions for the connected life. Bosch improves quality of life worldwide with innovative products and services that are 'invented for life' and spark enthusiasm.
Bosch was set up in Stuttgart in 1886 by Robert Bosch (1861-1942) as 'Workshop for Precision Mechanics and Electrical Engineering'. Today, the company comprises Robert Bosch GmbH and its roughly 440 subsidiary and regional companies in over 60 countries. Including sales and service partners, Bosch's global manufacturing, engineering, and sales network covers nearly every country in the world.
The special ownership structure of Robert Bosch GmbH has guaranteed the entrepreneurial freedom of the Group, making it possible for the company to plan over the long term and to undertake significant upfront investments in the safeguarding of its future. The basis for this future growth is its innovative strength, which is reflected in the company's 72,600 research and development associates who are based at nearly 130 engineering locations across the globe.