MGP Scooters
Since 2002, Madd Gear Pro was, and still is, inspired by the vision of bringing Australia's outdoor culture to the rest of the world.
With a focus around wheeled products, the MGP Pro Scooter was created, evolving into a multi-million-dollar industry worldwide and has been the basis for all of the MGP Scooters.
Quality, affordability and design have always been at the forefront of MGP Scooters creations.
The brand is constantly focusing on bringing that outdoor element to children across the world – as the market evolves and changes, so do MGP Scooters, as they work to push the boundaries and improve their products as they go.
After 17 years in business, MGP Scooters have worked to be part of millions of children's lives, making products which allow your kids to get outside, dream and be active, wherever they are in the world.
MGP works to evolve with the same dedication, passion and culture that they have embarked on since their founding in 2002, looking to help the next generation dream a little bigger.
Encourage your children to experience the outdoors with an MGP Scooter – discover the range of MGP Scooters below.
MGP VX8 Team Edition Stunt Scooter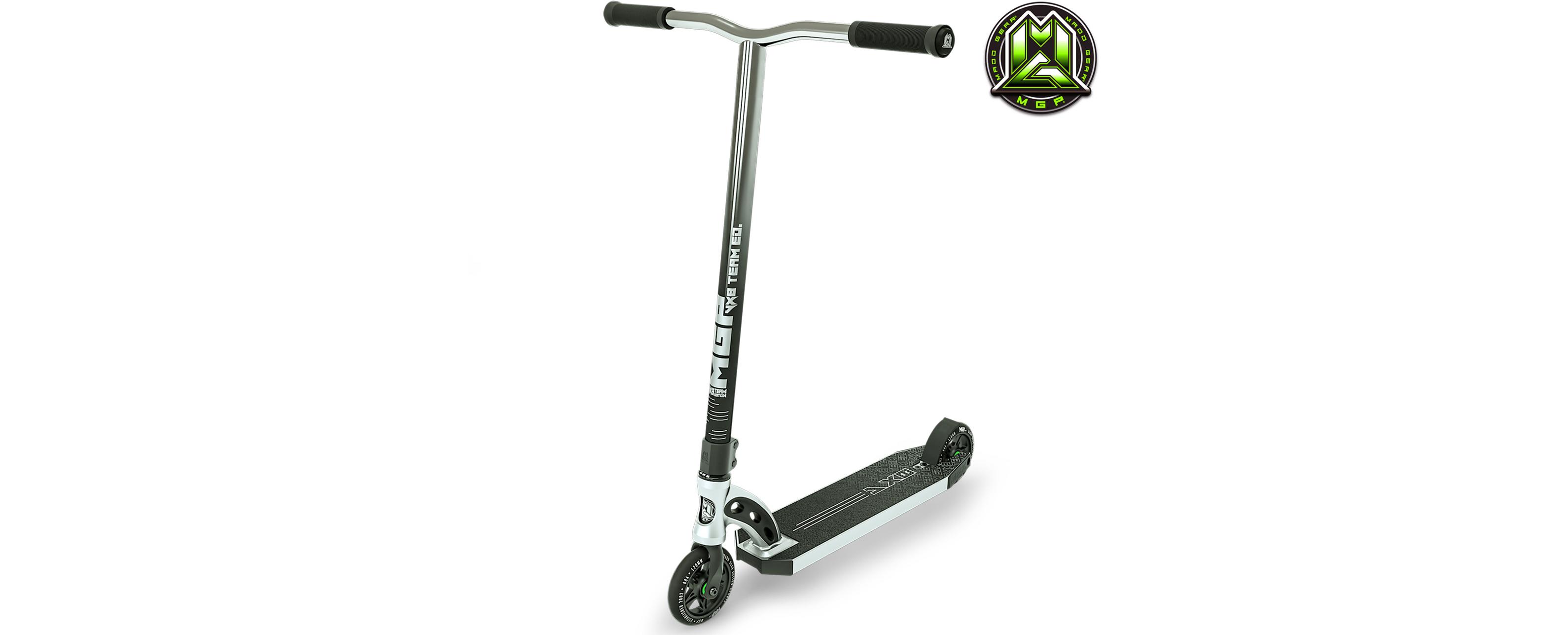 Created to give pro riders the specification they need, the MGP Scooter VX8 features some exciting upgrades all riders will love.
With a 4.8" wide deck and handlebars made from Japanese Chromoly, this MGP Scooter has excellent traction for your feet and incredibly durable grip.
120mm Fuse core wheels provide the best ability to perform stunts and ride fast, and a new addition of a headtube cut out and MFX deck blocks means that you'll be the coolest rider at the skate park with this chrome MGP.
With a price match guarantee and lifetime safety checks available from Halfords, the MGP VX8 Team Edition Stunt Scooter is a must-have for budding riders looking to improve their skills.
Find out more about this MGP VX8 Scooter online here.
Shop Now
MPG VX8 Scooter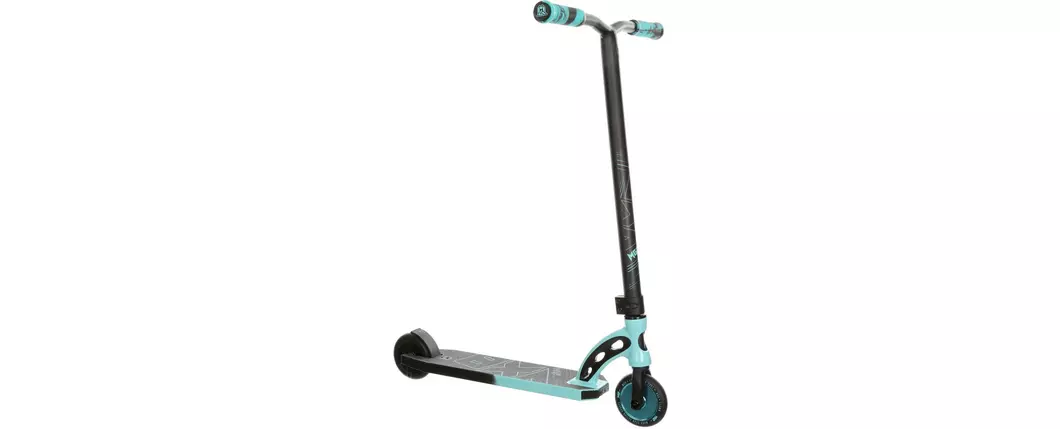 Made for intermediate riders, this Madd Gear Pro Stunt Scooter has been designed with up and coming scooter pro's in mind.
The 4.5-inch wide deck features a headtube cut out, and the handlebars have been created using the finest Japanese Chromoly, creating a visually exciting bike whilst also being strong and safe to ride.
This Madd Gear Pro Scooter requires little to no maintenance, thanks to the thread-less headset and fork combo; parents can rest assured that this is a safe and stable MGP Scooter.
This MGP Black Scooter is setting the bar for quality and specification and is the foundation for which all MGP Scooters are built on.
Perfect for stunt beginners, the MPG VX8 Scooter is available at Halfords.
Shop Now
MGP VX8 Extreme Stunt Scooter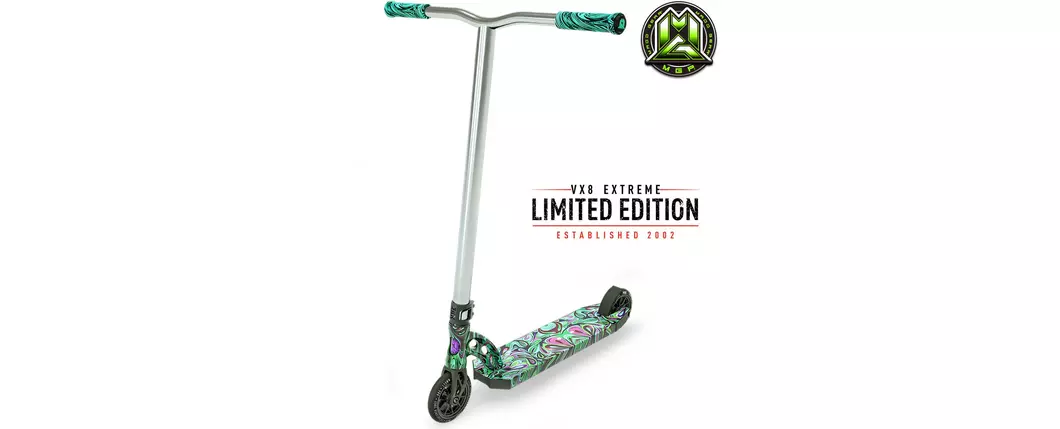 This MGP Extreme Scooter is designed for riders who demand the best out of their scooter.
Featuring aluminium handlebars, the MGP VX8 Scooter Extreme has a wider deck at 4.8-inches wide, as well as a secure double clamp.
The MGP Scooter Wheels are 120mm, allowing riders to scoot over uneven surfaces, such as tarmac and trail terrain, without any difficulty, as well as giving riders better support and stability on any surface.
With a stylish and fresh design, combined with top of the range components, the MGP Extreme Scooter is the next step for those on the hunt to be professional skaters.
Find out more about the MGP VX8 Extreme Stunt Scooter online here.
Shop Now
MGP Grip Tape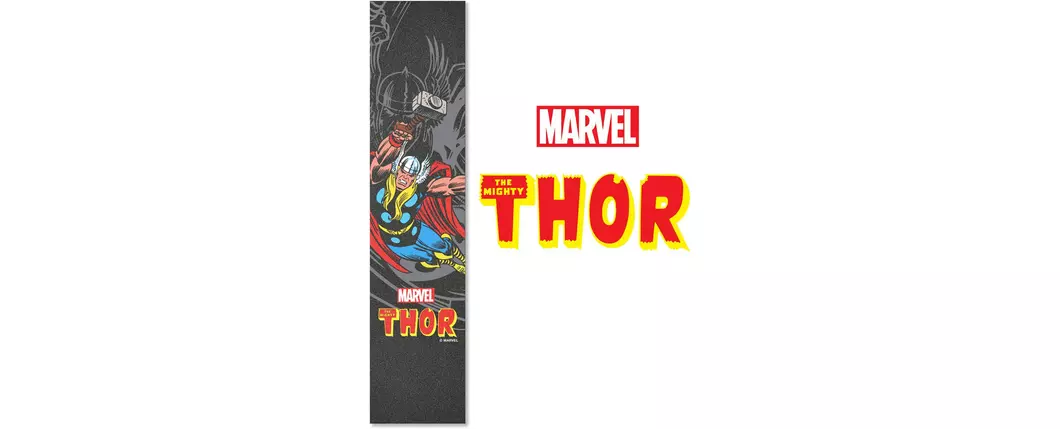 The MGP Scooter Grip Tape range is something to be desired by all scooters in the making.
The MGP Grip Tape designs offer a range of Marvel characters – from Thor, to Spider-Man and Captain America, these MGP Grips will bring a whole new level of cool to your scooter.
At measurements of 4.5-inches wide, and 22-inches long, your feet will feel secure and super, thanks to the incredible powers of the MGP Scooter Grip Tape.
If your scooter measurements are slightly smaller, the MGP Grip Tape can be cut and adjusted to fit any scooter.
Explore the range of super-hero MGP Grip Tape online at Halfords here.
Shop Now