Raleigh Bike Range
Why Raleigh ?
Raleigh is one of the UKs oldest and most renowned bicycle brands with an impressive heritage spanning over 130 years. Raleigh bikes are still designed in Nottingham and the brand has consistently focused providing high quality, reliable bicycles for the UK market. Raleigh has been making electric bikes for over 20 years so you can trust that you're in safe hands.
Shop the Raleigh Range
Welcome to the Felix Bikes
The Raleigh Felix bike range is the perfect electric hybrid bike, available in two specification options to suit you, the Felix and Felix Plus. The Raleigh Felix uses electric bike components from market leader Bosch to provide you with the most natural and efficient electric assistance on the market. Choose from four levels of power assistance.
Felix is an extremely versatile bike, capable of handling a wide variety of terrains and available in several frame styles and colour options.
Range overview
Powerful Bosch Active Line or Active Line Plus centre mount motor to tackle hills with ease

High capacity, durable Lithium Ion battery capable of taking you over 60 miles on a single charge.

Available with either the Bosch Purion or Intuvia display screen for clear information on your riding.

Fully Equipped and suitable for a wide range of terrains
Felix Specification
300wh Bosch Battery
Bosch Active Line Motor
Bosch Purion Display Screen
7 Speed Derailleur Gearing
Suspension Fork
Luggage rack and Mudguards
Shop felix range
Felix+ Specification
400wh Bosch Battery
Bosch Active Line Motor
Bosch Intuvia Display Screen
9 Speed Derailleur Gearing
Suspension Fork
Integrated lock and lights
Luggage Rack & Mudguards
Find a store
Test ride a Raleigh bike in a Halfords store near you.
Free 30 minute test rides available in 88 stores!
say hello to the evo
The Evo is the perfect solution for riders who have limited storage space or need to be able to easily transport their ebike. The simple folding mechanism means that you can fold your bike down to a compact 88cm x 80cm x 44cm size in less than a minute.
The TranzX electric bike components provide simple to use assistance for quick trips and light to medium inclines with four different levels of power output.
Bike Overview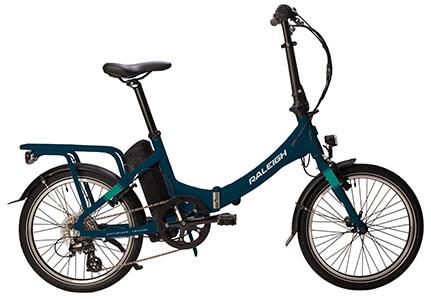 Light and nimble rear wheel motor delivers reliable power for quick trips and light to medium inclines.

Compact 250wh battery capable of taking you up to 30 miles on a single charge.

A Simple LED display screen shows current assistance level and remaining power.

a Compact Folder Perfect for storing in small spaces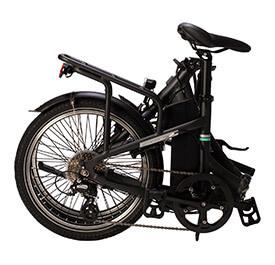 Shop evo
Evo specification
250wh Battery
45NM Rear Wheel Motor
Simple LED Display Screen
8 Speed Derailleur Gearing
Integrated lights
Luggage Rack & Mudguard
Find a store
LOCATE A STORE NEAR YOU
Felix
Evo
what is an Electric bike?
Electric bikes or ebikes have been around for many years but have only recently gained widespread popularity due to the advances in technology making them more efficient. Electric bikes only provide power assistance when you pedal, so you'll still get exercise while you're riding. Plus, you'll have the ability to ride further, reduce the intensity of hills and finish your ride without getting all sweaty.
shop the extended raleigh range
Shop now