Sony Car Stereos
Few brands define the concept of audio excellence like
Sony
.
Every journey needs a soundtrack, and with a Sony Car Stereo you're guaranteed a cutting-edge device, fit with innovative displays and interactivity for the best car audio experience.
Whether you're commuting to work or hitting the open road, a Sony Stereo will make your journey both effortless and enjoyable.
Sony's premium audio devices allow you to enjoy your favourite music and podcasts with the highest quality sound experience from this world-renowned brand.
The innovative car radios Sony create allow you to control your music from not just the device itself, but also the device it's paired with, allowing your passengers ultimate access to the music you're listening to on the go.
The range of Sony car stereos Halfords offer varies; from their Sony DAB Radios to their new interactive design.
Discover our range of products available to fulfil your music-craving ears below.
Sony Car Stereos: Our Favourite Products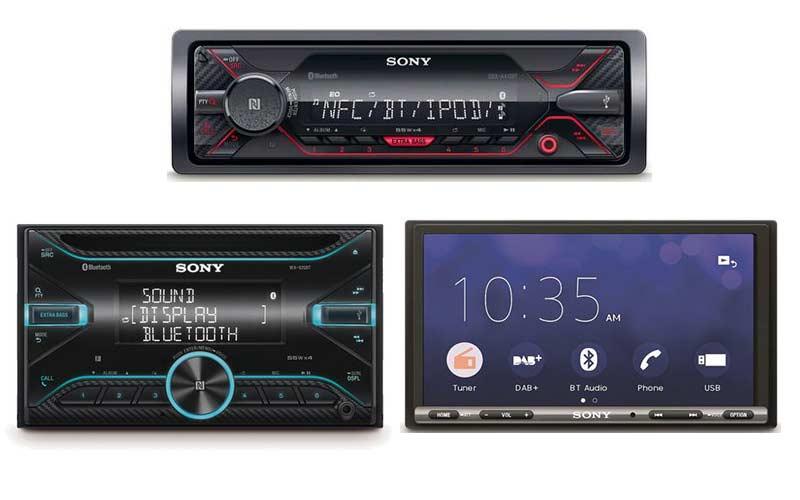 With such a range of incredible products, it's hard to choose your favourite car radio Sony product.
From Sony's car stereo with Bluetooth devices, to their interactive video screens and hands free creations, there is a design to suit all drivers and passengers alike.
Discover our favourite range of Sony Car Stereos over on the right. below.
Sony Car Stereo with Bluetooth
This Sony Car Stereo with Bluetooth features incredible connectivity power.
The Sony DSX-A410BT Car Stereo allows you to wirelessly stream music from your mobile and take hands free calls whilst you're commuting and travelling.
Shop Now
Sony In-Car DAB Radio
If you're after something with a bit more "show", this Apple CarPlay/Android Auto™ DAB Receiver from Sony is just what you're after.
This device connects to either your Apple or Android device so you can stream music and podcasts, use the map function and communicate whilst on the road.
Shop Now
Sony Car Stereo Double-DIN CD Receiver with Bluetooth® Technology
Want to pair two phones at once? With this Sony Car Stereo, you can!
With Dual Bluetooth technology you can pair your first phone for full navigation and music, while a second device can be connected for hands free calls whilst you're on the go.
Shop Now
Sony: A Brand History
Sony was first established as a brand in 1946, and, by 1958, they had already won the Good Design Award for their TR-610 radio.
Established in Tokyo, Japan, Sony have been continually pushing the boundaries of audio technology, surpassing their own high expectations since their founding.
From creating the first portable audio device, The Walkman, to establishing their own production and film-making company - marketing films such as Spider-Man and The Karate Kid - Sony have established themselves as an innovative brand that sets their sights on all sectors of technology and conquerors them.
By 1968 the brand had established its first office in the United States, and by 1980 the hugely successful brand founded its first European office in Stuggart, marketing and distributing a wide range of products.
To this day, Sony live by their business purpose & values - to fill the world with emotion, through the power of creativity and technology.