Winglights Pop Turn Bike & E-Scooter Light Set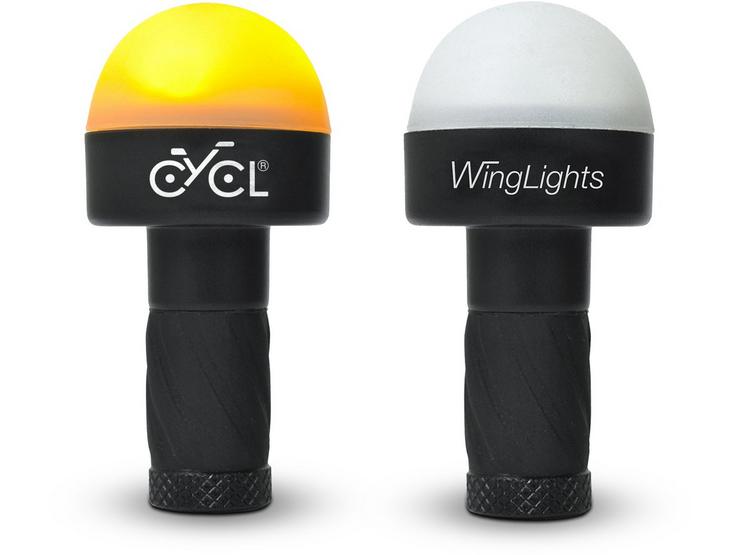 10 people are viewing now
5 purchases during last 48 hours
Winglights Pop Turn Bike & E-Scooter Light Set
Lumens : 14 Lumens
Weight on Bicycle : 58g
USB Rechargeable : No
Winglights Pop Turn Bike & E-Scooter Light Set
Delivering the same high visibility and robustness in a lighter and smaller body,
WingLights POP
are the latest addition to our award-winning family of direction indicators for bicycles.
WingLights POP
are LED turn signals that fit into the handlebars of your bicycle or e-scooter. They are lighter and smaller than other existing WingLights models. For more casual riders,
WingLights Pop
are perfect as they remain waterproof and robust at a lower price.
WingLights Pop
come with 2x CR2032 batteries per unit included.
STOP DANGEROUS OVERTAKING WITH A SINGLE TAP:
Every year, there are approximately 19,000 accidents involving bicycles on the UK's roads, with 75% of them occurring at junctions and major turns. CYCL aims to reduce this figure by helping to improve cyclists' visibility in these dangerous areas and scenarios. When using WingLights as a supporting visual aid, you increase the likelihood of being seen by drivers and other cyclists. This ultimately lowers the chances of potential collisions and helps to increase your confidence when riding.
SIMPLE AND STRONG:
WingLights POP deliver the same high visibility and robustness in a lighter and smaller body. Perfect for the casual commuters and younger riders, WingLights POP offer a waterproof design at a low price-point and stay firmly in place at the end of your handlebars thanks to CYCL's patented mounting technology.
EASY TO INSTALL AND USE:
With WingLights POP, the LED indicators are attached straight onto the mounters. This means that you only need to screw them into your handlebars and you're good to go. The mounters are compatible with handlebars with an inner diameter from 14.7mm to 23mm. WingLights POP come ready-to- use thanks to the 2x CR2032 batteries included.
They activate with a single tap, flashing bright orange to inform other road users of your direction intentions and will automatically switch off after 45 seconds.
ADDITIONAL INFORMATION:
WingLights POP Features:
Indicator Brightness: 14 lumens By 3 Extra Bright Power Efficient Orange LEDs Lights per Indicator.
Material: High Quality Plastic body with transparent rubber shield.
Compatible: With Any Straight or Curved (up to 60°) Handlebars with Inner. Diameter Between 14.7 mm and 23 mm.
Battery Compatibility: CR2032 and LIR2032 Rechargeable Batteries. 4x CR2032 Lithium Button Batteries Included (2 per Indicator).
Weight on Bicycle: 58g.
Scooters compatible with WINGLIGHTS:
| Brand/Model | WingLights? (Y/N) | Require Winglights Adaptor? (Y/N) |
| --- | --- | --- |
| Xiaomi Mi / M365 / 1S / Pro | Y | Y |
| Ninebot Segway (older models ES2, ES4) | Y | Y |
| Segway Ninebot Max G30d | Y | Y |
| Ninebot (newer models E45e/ E22e) | Y | Y |
| Pure Air Pro | Y | Y |
| Pure Air | Y | N |
| Hiboy s2 | Y | Y |
| EPF (ePowerFun) | Y | Y |
| Segway Ninebot Air | N | N |
| Unagi | N | N |
| Inokim | Y | N |