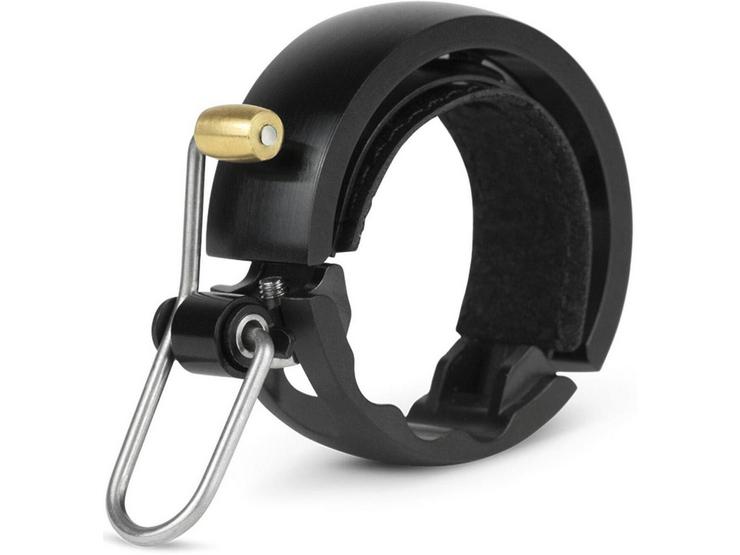 10 people are viewing now
5 purchases during last 48 hours
•Designed to wrap seamlessly around any handlebar
•Low profile cable management system
•Loud enough to cut through noise
Knog Oi Luxe Bike Bell
Subtle design that wraps around your handlebar
Considered cable management system
Beautiful tone that's loud but pleasant (80+ dB)
Built tough with robust materials
CNC machined ringer
Brass dinger
Stiched vegan leather
Injection molded stainless steel
No ordinary bike bell…..
Oi Luxe
features a CNC machined ringer, brass dinger, stitched vegan 'leather' shim and metal injection moulded stainless steel. It's made to last and is a pleasure to have on your handlebar.
The
Oi Luxe Bike Bell
is a remarkable design with a beautiful tone. Fitting seamlessly onto any circular handlebar, its low profile gives it plenty of not-so-subtle style. The Large size fits 23.8 – 31.8mm bars, while the Small fits 22.2mm bars.
The Sound
The strike of the bell is firm and fast, allowing a good balance of volume and longevity of sound.
The Mount
Handle-bar cables? No worries. Built into the shape of the mount is a cable management system.
The Fit
Just pop it over you handle bar, give the hex screw a quick tighten up, and you're good to go.
The Look
Where bells usually protrude up or out,
Oi
doesn't. It appears to hover around the handle bars.
Technical specifications:
Weight: Large: 46.5g / Small: 31.5g
Dimensions: Large: H: 15 mm x W: 48 mm x L: 66 mm / Small: H: 15 mm x W: 36 mm x L: 55 mm
Fits bar width: Large: 23.8 - 31.8 mm bars / Small: 22.2mm bars
Hammer type: CNC machined ringer, brass dinger
Colours: Matte black, Silver or Brass