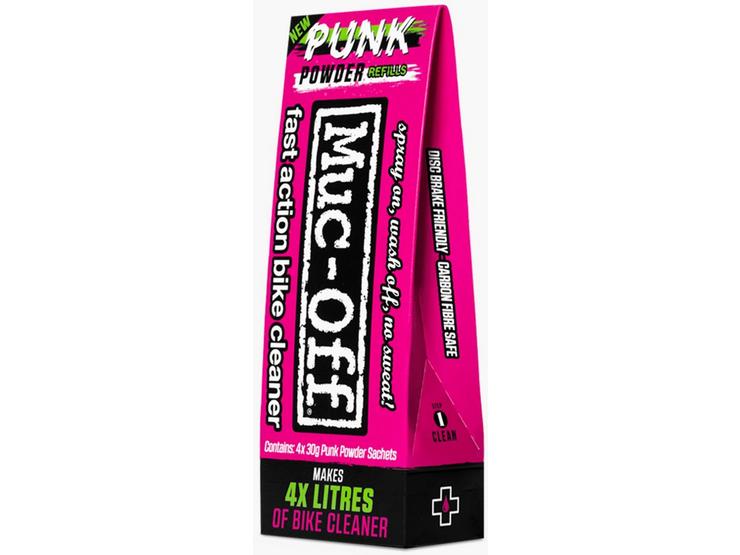 10 people are viewing now
5 purchases during last 48 hours
Makes 2 litres of bike cleaner
100% plastic free packaging
Safe on all parts and surfaces, including carbon fibre
Muc-Off Punk Powder
100% plastic free packaging
100% environmentally friendly, biodegradable ingredients
Sachet is compostable and printed with vegetable inks
Safe on all parts and surfaces, including carbon fibre
Will not harm seals, cables, disc brake pads or rotors
Vegan & vegetarian friendly
Cruelty free, not tested on animals
Available in 2 and 4 Litres

Packing some serious cleaning power while being kind to the planet, Punk Powder is the world's first plastic-free bike cleaner. Delivering the same epic cleaning power as the original Muc-Off pink bike cleaner, this concentrated powder-based cleaner will not only leave your bike gleaming, but it's safe for the environment too.
Muc-Off's Punk Powder
is seriously dedicated to protecting both the planet and your bike, making light work of muck and grime with its biodegradable, environmentally friendly ingredients. After adding water, you'll be able to use the cleaner in seconds thanks to its fast-dissolving formula, so you can get your bike back on top condition.
Punk Powder contains readily biodegradable ingredients and 92% less packaging than two of the standard 1L bottles, making it the perfect way to clean your bike guilt-free! It's safe for use on all parts and surfaces, including carbon fibre, and won't harm any seals, cables, disc brake pads or rotors, so you can be sure your bike is being well looked after, as well as the planet.
To mix your formula, add 1 sachet of Punk Powder to 1 litre of lukewarm water, and shake! Make sure you shake the bottle vigorously for 30-60 seconds to activate the formula, and if you notice any undissolved powder, continue shaking until it's fully mixed.
Sachet Instructions
Grab your empty old bottle of Muc-Off (you may need a pair of adjustable pliers to remove the trigger from the bottle) or purchase our Bottle for Life.
Fill up to the shoulders of the bottle with 1 litre of lukewarm water for faster formula activation
Carefully cut one corner of the sachet open along the diagonal cut lines.
You can carefully pour the sachet straight into the top of the bottle. Or, using the box, fold the inside of the lid together using the printed lines as a guide and use this as a funnel to pour the powder into your bottle.
Screw your spray trigger back onto the top of the bottle. Ensure it's tight!
Shake the bottle vigorously for 30-60 seconds to activate the formula. If you notice any undissolved powder, simply keep shakin' it!
Go clean that filthy bike!
Hazards & Warnings

Warning: Causes serious eye irritation