Muc-Off Clean, Protect & Lube Kit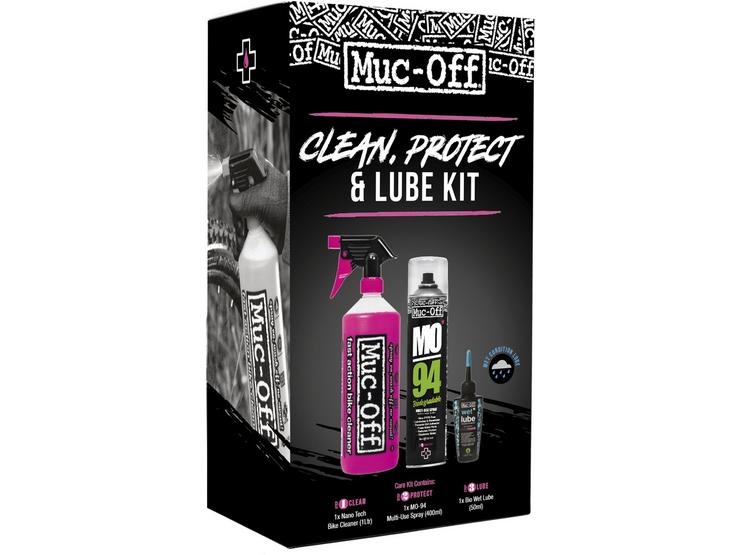 10 people are viewing now
5 purchases during last 48 hours
Muc-Off Clean, Protect & Lube Kit
3 pieces
Inc. 3 products to clean and protect your bike
Keeps your bike running smoothly
Muc-Off Clean, Protect & Lube Kit
The Muc-Off Clean, Protect & Lube Kit comes with the three steps needed to keep your bike in tip-top shape.
Start off with Muc-Off's Biodegradable Nano Tech Bike Cleaner, which has an incredibly effective cleaning formula containing 'Nano Technology' that also cares for your bike's delicate finishes. It contains no harmful acids, CFC's or solvents and is fully biodegradable.
Next, grab Muc-Off's MO-94. If you're looking for an all round wonder spray...Look no further! Muc-Off MO-94 covers all the bases with its incredible PTFE FREE formula to quickly and effectively penetrate moisture, lubricate moving parts and leave a long lasting protective film. MO-94 prevents dirt adhesion and also drives out excess water to keep rust and corrosion at bay.
Finally, finish off with Muc-Off's Biodegradable Wet Chain Lube. This is an ultra durable, long distance bicycle chain lubricant, that has been specifically formulated to excel over long distances in wet or muddy conditions. Our state of the art formula has been derived from natural ingredients and made completely from renewable sources. It penetrates deep into your chain link's to provide long lasting lubrication and total protection. Our integral 'Extreme Pressure Additives' coat every part of the link to provide a silky smooth gear change and an ultra efficient drive chain.
Features & Benefits:
Muc-Off Nano Tech Bike Cleaner: to break down dirt on a microscopic level
Muc Off MO-94 Spray: to disperse moisture and prevent future dirt adhesion
Muc-Off Biodegradable Wet Lube: to reduce friction and provide smooth gear changes

Nano Tech Bike Cleaner:

Safe on all parts and surfaces, including carbon fibre
Will not harm seals, cables, brake pads or rotors
Safe on anodised metal
Nano Tech Formula cleans on a molecular level

MO-94:

Cuts down on friction to improve component efficiency

Wet Chain Lube:

Reduces friction and energy consumption
Vegetable oil-based formula for eco-protection
Pipette system for easy application
Can be used on any bike
Directions for Use:
Nano Tech Bike Cleaner
Step 1: Rinse bike thoroughly before applying Nano Tech Bike Cleaner
Step 2: Spray Nano Tech Bike Cleaner onto the entire bike including components and leave for 3-5 minutes
Step 3: Agitate any stubborn grime with a brush or sponge
Step 4 - Rinse entire bike thoroughly with fresh, clean water

MO-94

Step 1: Spray on desired area for treatment
Step 2: Allow the area to dry, for best results and to ensure the protective film remains in place, do not wipe the area after application or treatment

Dry Weather Lube

Step 1: Shake well before use and use at room temperature
Step 2: Clean drive train thoroughly before wet chain lube application
Step 3: Ensure the drivetrain area is dry
Step 4 - Spray a moderate amount of Muc-Off Dry Weather Lube to the inside chain link while spinning pedals in a reverse motion
Step 5 - Wipe off any excess with a cloth, for optimum performance, leave to soak in overnight