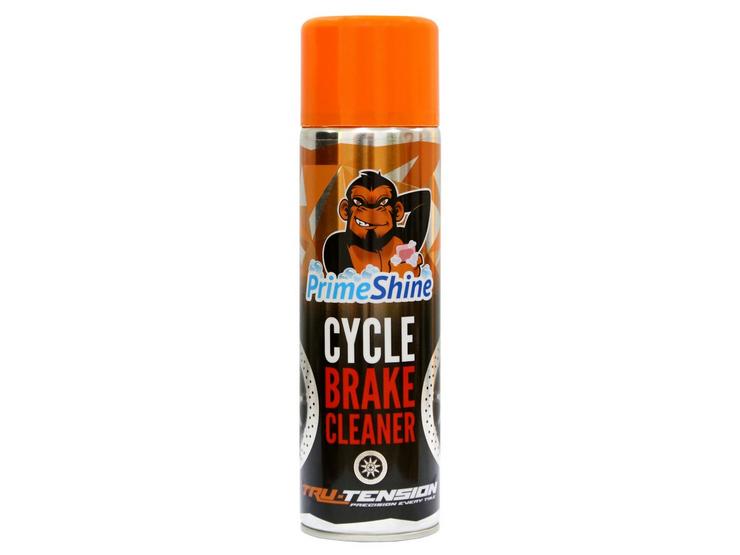 10 people are viewing now
5 purchases during last 48 hours
500ml
Rapidly removes dirt, dust, carbon and oil build up
High pressure nozzle
Tru-Tension Cycle Brake Cleaner, 500ml
Give your bike the perfect braking surface with the Tru-Tension Cycle Brake Cleaner. From Dragons' Den success comes the next generation of cycling maintenance products. Your brakes are a key component and should be well maintained not only for safety, but for improved performance.
Specifically formulated for bikes, the Tru-Tension Brake Cleaner is designed to rapidly remove dirt, dust, carbon and oil build up on all braking components, leaving you with the optimum braking performance for your bike. This cleaner from Tru-Tension has a fresh banana fragrance.
With a high-pressure nozzle, it blasts away dirt and with a medium-dry action, it allows enough time to wipe the surface clean. Massively reduces brake squeal for a better ride. Maintain that modulation and bite point with the Tru-Tension Brake Cleaner.
Features & Benefits:
500ml
Rapidly removes dirt, dust, carbon and oil build-up
High-pressure nozzle
Perfect for Road, Mountain and E-Bikes
Improves braking performance
Perfect for all brake types
Directions for Use:
Step 1: Place the bike on a stand of your choice and ensure it is secure
Step 2: Apply Brake Cleaner directly onto brake components
Step 3: Wipe dirt away using a clean cloth or leave to evaporate
Note: Always use in a well ventilated area.
Hazards & Warnings

Danger: Extremely flammable aerosol

Warning: Contains gas under pressure; may explode if heated

Warning: Causes skin irritation

Warning: May cause drowsiness or dizziness