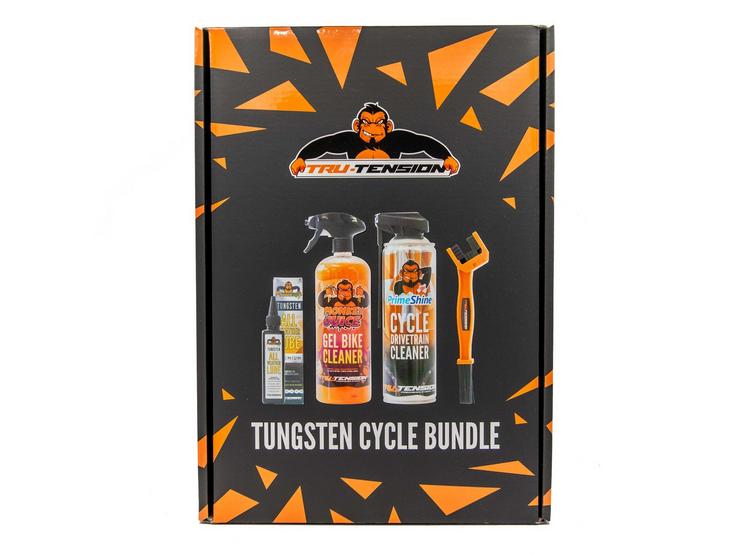 10 people are viewing now
5 purchases during last 48 hours
6pc
Premium Cleaning and Lubrication Bundle
Tru-Tension Cycle Tungsten Bundle
The Tru-Tension Cycle Tunten Bundle is scientifically proven to significantly reduce t wear on drivetrains compared to any other drip lubricants on the market. Plus, its fine to ride just 10 minutes after appcation, no overnight drying time!
Upgrade any cycling toolbowith this premium 6 piece Tungsten Bundle. Perfect for any rer from seasoned riders to new cyclists and racers alike. Combining the revolutionary, world first and patent pending Tungsten lubricants with state-of-the-art cleaning products provides any biker with the perfect platform to clean, protect and lubricate their bike. Ideal for road bikes, mountain bikes and E-Bikes.
Monkey Juice Gel Bike Cleaner is a specifically formulated degreaser designed to instantly lift and remove stubborn dirt and grime generated from riding. Unlike all other cleaners, Monkey Juice sticks to the surface of the bike rather than dripping off, providing a superior clean and helping to repel future dirt. Safe to use on all bike components.
Cycle Drivetrain Cleaner instantly blasts away contaminants on the chain and chain rings to effectively eliminate grease and grime. It also protects using our in house designed moisture repellent formulation and rust inhibitors to keep moving components in optimum working condition.
The Tru-Tension Tungsten lubricants are the world first cycle lubricants of their kind. Revolutionising lubrication in the cycling industry through faster, harder wearing lubrication for any weather. Up to 40% faster than standard Ceramic and Teflon based lubricants, our lubricants are the perfect selection for riders looking for a smoother ride and improved efficiency.
Monkey Juice Concentrate Sachets have been designed to reduce the use of plastics and save money for every rider. Rather than buying a new bottle every time you've run out of cleaner, simply fill your Monkey Juice bottle to the refill line (800ml), pour in the concentrate and shake. Boom, you've got three bottles worth of the innovative gel cleaner!
Revolutionary cycle technology to clean, protect and effectively lubricate any road bike, mountain bike or e-bike.
Features & Benefits:
Improve performance
Prolong cassette life
Increase chain life
1 x Monkey Juice 1Ltr Bottle
1 x Monkey Juice Refill Sachets (1 additional bottle of cleaner when diluted)
1 x Tungsten All Weather Chain Lubricant
1 x Cycle Drivetrain Cleaner
Directions for Use:
Step 1: Spray bike with Monkey Juice and rinse away grime
Step 2: Blast away dirt on your drivetrain with Drivetrain Cleaner
Step 3: Apply a fresh coat of Tungsten Lubricant – Shake well before use
Step 4: Allow to dry for 5 minutes before riding
Step 5: Apply as needed for continuous lubrication and protect
Hazards & Warnings

Danger: Extremely flammable aerosol
Warning: Pressurized container: may burst if heated

Warning: Causes skin irritation

Danger: Causes serious eye damage

Warning: Causes serious eye irritation

Warning: May cause drowsiness or dizziness
: Toxic to aquatic life with long lasting effects
: Harmful to aquatic life with long lasting effects