Tru-Tension Tungsten All Weather Lube 50ml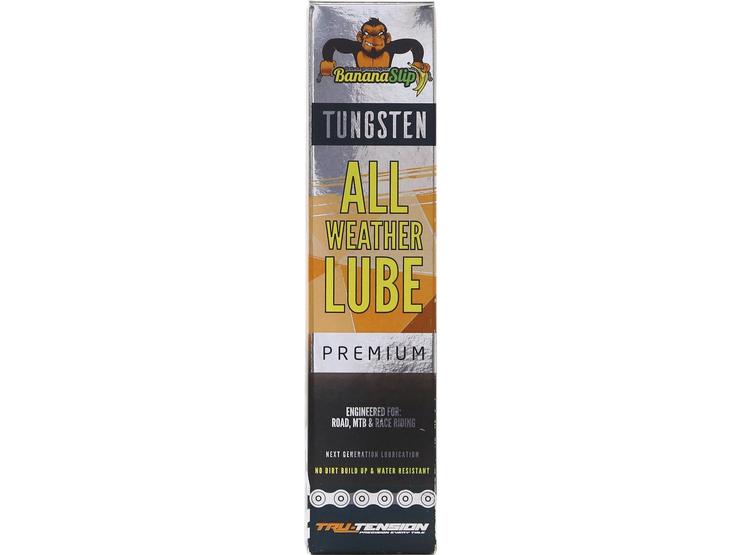 10 people are viewing now
5 purchases during last 48 hours
Tru-Tension Tungsten All Weather Lube 50ml
Tru-Tension Tungsten All Weather Lube 50ml
Tungsten Disulphide was originally developed for space projects as a lubricant due to it having a lower coefficient of friction compared with Ceramics, Teflon and Graphite, as well as being more durable. Tungsten smooths out the surface of the metal to minimise surface imperfections, resulting in up to 40% less friction than Ceramics, up to 50% less than Teflon, and up to 60% less than Graphite. Not only is it faster, but it's also more durable.
Tru-Tension Tungsten All Weather Lube is independently proven to be the hardest wearing drip application chain lube on the market, reducing wear on moving components to reduce running costs. Tungsten as a friction modifier is superior to Ceramics, Teflon and PTFE, making it super-fast while also significantly reducing wear. The Tru-Tension patent pending formulation is wax based, water resistant, completely dry and 100% biodegradable in use.
Tungsten blended with our hi-tech water-based All Weather Lube provides a silky-smooth and fast running ride like no other. Once applied, it penetrates all parts of the chain before setting to a completely dry lubricating layer which is resistant to water and dirt ingress. As the lubricant is totally dry, it completely stops dirt building up into a grinding paste unlike all other conventional lubricants.
After the first couple of applications, Tungsten smooths out the small imperfections in the metal surfaces of the chain, creating a rock hard protective and slippery layer. This layer is created on pressure points within the drivetrain, only layer one atom thick to apply superior lubrication exactly where it's needed. The next generation formulation is designed to stick firmly to the surface of the chain which not only reduces wear, but also increase intervals between lubricant applications to save you money.
The perfect lubricant for riding in any weather, unlike standard lubricants which quickly run off with water or attract dirt and dust. Ideal for road and off-road riding.
Features & Benefits:
Independently proven to reduce wear more than any other standard drip apply lube on the market(Check out the graphs)
Super fast – Perfect for any riding conditions
Dual viscosity – thin when applied for pin penetration
Sets within 5-10 mins for instant riding
Keeps your chain exceptionally clean
Completely dry – dirt doesn't stick
Repels moisture for wet riding
Easy to clean
Perfect for Road, Mountain & E-Bikes
Improves performance
Prolongs Cassette Life
Increase Chain Life
Less dirt build up
Smoother ride
Direction of use:
Degrease the chain, chain ring and cassette thoroughly
Shake the bottle well before application
Apply the lubricant evenly to all parts of the chain
Allow to dry for 5-10 minutes before riding
Apply as needed for continuous lubrication