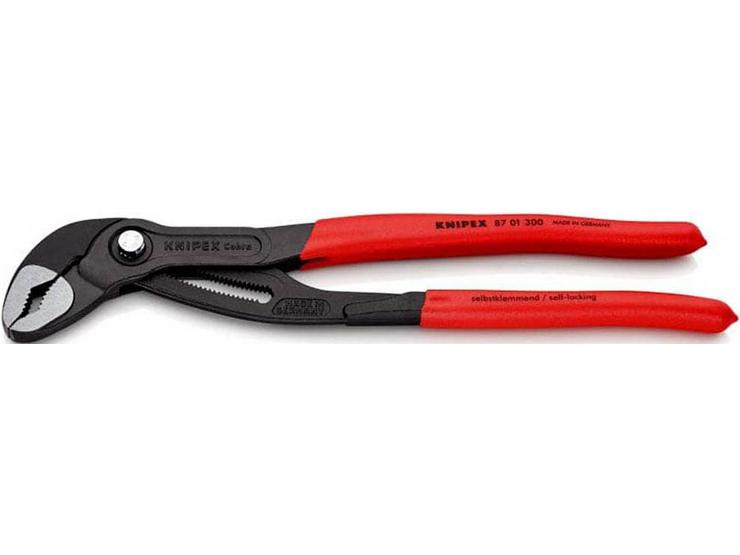 10 people are viewing now
5 purchases during last 48 hours
No Slipping
Ultra strong grip
Low force required
Knipex High Tech Pliers
Gripping surfaces with special hardened teeth, teeth hardness approx. 61
HRC: high wear resistance and stable gripping.
Self-locking on pipes and nuts: no slipping on the workpiece and requires low hand force.
Fine adjustment for optimum adaptation to different sizes of workpieces and a comfortable handle width.
Chrome vanadium electric steel, forged, multistage oil hardened.
Reliable catching of the hinge bolt: no unintentional shifting.
Pinch guard prevents operators' fingers being pinched.
Box joint design for high stability due to double guide.
Push button adjustment on the fly.
The Cobra High Tech Pliers are self-locking pliers that will grip on anything from round pipes to nuts.
With no slipping and only require low force to provide an ultra strong grip on just about anything. Cobra High Tech Pliers give you more muscle power than you require for your workshop.
Technical specifications:
Article No. 87 01 150:
Weight - 145g
Dimensions - 150x38x12mm
Pliers - Grey atramentized
Head - Polished
Handles - with non-slip plastic coating
EAN - 4003773060116
Standard - DIN ISO 8976
REACH compliant - does not contain SVHC
Adjustment positions - 11
Capacity for Pipes - 1 1/4"
Capacities for nuts - 30mm
Capacities for pipes - 32mm
Article No. 87 01 250:
Weight - 335g
Dimensions - 250x44x14mm
Pliers - Grey atramentized
Head - Polished
HandleS - with non-slip plastic coating
EAN - 4003773022022
Standard: DIN ISO 8976
REACH compliant - does not contain SVHC
Adjustment positions - 25
Capacity for Pipes - 2"
Capacities for nuts - 46mm
Capacities for pipes - 50mm
Article No. 87 01 300:
Weight - 530g
Dimensions - 300x52x15mm
Pliers - Grey atramentized
Head - Polished
Handles - with non-slip plastic coating
EAN - 4003773034087
Standard - DIN ISO 8976
REACH compliant - does not contain SVHC
RoHS compliant - not applicable
Adjustment positions - 30
Capacity for Pipes - 2 3/4"
Capacities for nuts - 60mm
Capacities for pipes - 70mm