Knipex Long Nose Multi-Comp Grip Pliers (29 25 160)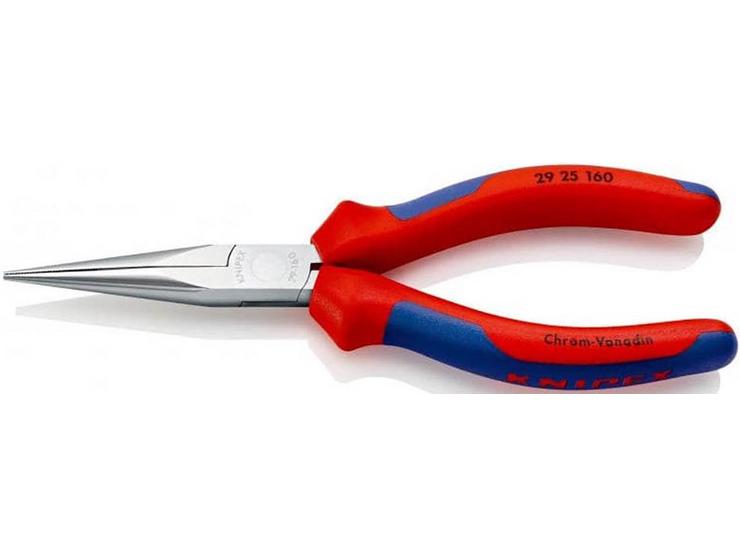 10 people are viewing now
5 purchases during last 48 hours
Knipex Long Nose Multi-Comp Grip Pliers (29 25 160)
Great for hard to reach places
Multi-Comp Grip
Chrome plated
Knipex Long Nose Multi-Comp Grip Pliers (29 25 160)
Article No: 29 25 160
EAN: 4003773043478
Pliers: Chrome plated, forged and oil hardened chrome vanadium electric steel
Head: Chrome plated half round jaws, cross hatched and knurled on the gripping surfaces
Handles: with multi component grips
Dimensions: 160x59x18mm
Standard: DIN ISO 5745
REACH compliant: does not contain SVHC
RoHS compliant: not applicable
Jaw thickness (joint) (T1): 9.0mm
Tips width (W4): 2.0mm
Tips thickness (T2): 2.0mm
Jaw length (L3): 54.0mm
Head width (W3): 14.0mm
Weight: 139g
Your best workshop partner for gripping small items in to those hard to reach places. Also great for bending, pulling and holding fine gauge wires.
These long nose pliers are made from forged and oil hardened chrome vanadium electric steel, with long half round jaws that are cross hatched and knurled on the gripping surfaces.
The M-Grip makes for a more ergonomic grip for the user. More comfortable to hold and use, less fatigue on a task and a more secure grip.