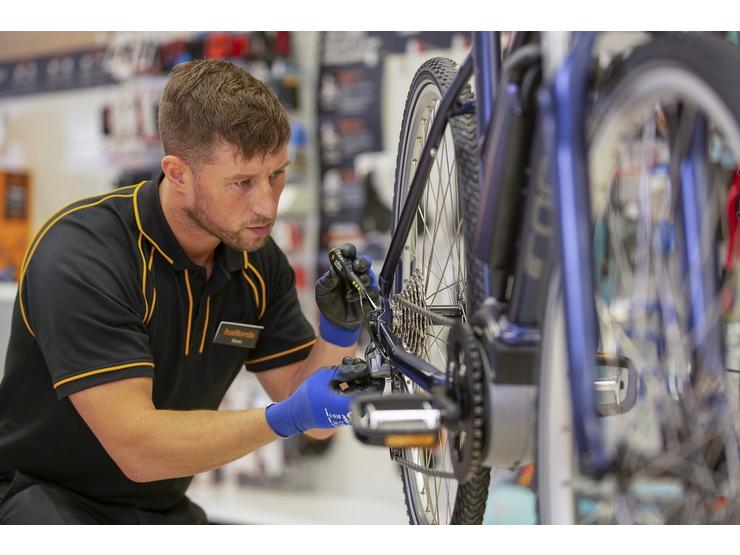 10 people are viewing now
5 purchases during last 48 hours
Great for regularly used bikes every 6 months
Full safety check and 32 point assessment
15-part service and adjustment process
Subject to inspection - if we identify further work and/or parts required, this may require us to rebook you back in (this may not necessarily be the same day)
Please ensure you remove any excess mud or dirt from all moving parts so our mechanics can properly assess your bike. We reserve the right to refuse to carry out a repair if the bike is in an unsuitable condition
Silver Bike Service at a glance
A trained mechanic will carry out a full safety check and 32 point assessment
Great for regularly used bikes every 6 months
Inner gear and brake cables will be replaced
We'll check for any signs of wear or damage
15-part service and adjustment process
12-month guarantee on parts
Silver Service
Every bike should be serviced at regular intervals, and if your bike is used regularly, our Silver Service is the perfect option, which we'd recommended every 6 months.
Our trained mechanics will complete a full safety check involving a 32 point assessment. We'll check for any signs of wear or damage, complete a 15 part service and adjustment process including replacing the brake and gear cables to ensure the bike is not only safe but riding like new.
It can take up to 60 minutes for our trained mechanics to complete this check and service.​ As part of the assessment we may find additional repair work needed. We will give you a no obligation estimate to complete the additional repairs.
If you wish to have any additional repairs fixed we may need to book you back in at the earliest opportunity​. All service and repairs include a 12- month guarantee against manufacturing defects.
What's included?
The following is included with the Silver Service. Please note, the cost of any replacement parts is not included (aside from inner gear and brake cables).
Full safety check and 32 point assessment
Wipe down frame, forks and wheels
Tyre condition checked and inflated to correct pressures
Lubricate chain
Adjust gear tension and limit screws
Adjust brakes
Tighten handlebar clamp and all handlebar-mounted controls
Tighten both crank arms to manufacturer's limits
Check and tighten seat post and saddle to manufacturer's limits
Fit new inner gear cables and lubricate
Fit new inner brake cables and lubricate
True (straighten) both wheels
Bleed front and rear brakes (for hydraulic brake bikes)
Cycling Services
To see what else Halfords has to offer, visit our Cycling Services page for more information on single services, service packages and more.
Before Taking Your Bike Into A Shop: Please ensure you remove any excess mud or dirt from all moving parts so our mechanics can properly assess your bike. We reserve the right to not carry out a repair if the bike is in an unsuitable condition.
We also reserve the right to refuse to carry out any work on a bike if we deem the bike to be unsafe and/ or dangerously modified.
Lifetime Guarantee
Here at Halfords we take pride in the bikes we design, build and sell and are happy that all of our bikes are of the highest quality. That's why we offer a Limited Lifetime Guarantee on the frame and rigid forks of all Halfords and Halfords exclusive brand's for the original owner.
On top of this, we also cover all other components on the bike for 1 year unless the manufacturer states otherwise.
We offer our Free Bike Health Check Service on all bikes of any size and discipline. If we spot a problem that requires a repair that you would like us to fix, we can book your bike in at the first available opportunity so it can be repaired by one of our fully qualified mechanics.