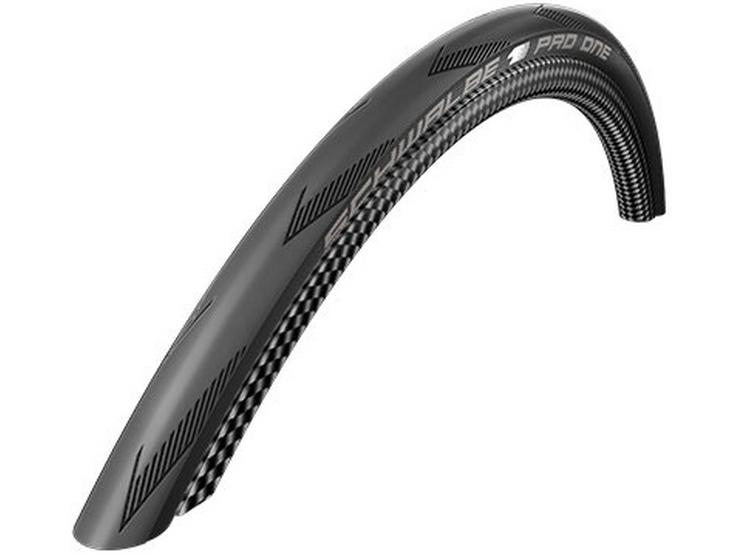 10 people are viewing now
5 purchases during last 48 hours
Schwalbe Pro ONE Tubeless Folding Tyre 700x25c
Creating "souplesse". Tubeless Easy high-end road bike tyre. Combining "souplesse", speed and control at the highest level. The best road bike tyre Schwalbe has ever developed. With the latest Souplesse Carcass construction that integrates Tubeless Easy technology in the most progressive way.
Pro One is the benchmark for Tubeless road bike tyres, because no other tyre provides the rider with as much control and safety as the Pro One. The riding characteristic is similar to the smooth behaviour of a classic tubular tyre. And it's fast.
The integrated Tubeless Easy technology and the new ADDIX Race Compound are an unbeatable combination for maximum speed. At the same time, the Pro One remains controllable at all times - on the fastest descents, in extreme cornering, in all conditions.
In addition to the high protection level of the TLE technology, the high-tech fabric V-Guard protects against cuts and punctures.
As tubeless tyres continue growing lighter and faster, the Schwalbe Pro ONE TL Ready Folding Tyre 700x25c has raised the bar. The integrated MicroSkin fabric ensures impermeability, guarantees reliable high-pressure stability and improves the overall cut resistance.
The patented MicroSkin construction makes this all possible. - 70 g less weight, 15% less rolling resistance and improved cut resistance all around. Tubeless tyres offer clear advantages in speed, comfort, grip and puncture resistance. There is no friction between the tyre and tube. This crucially reduces the rolling resistance.
It is even lower than in super-light competition tyres. Tubeless can be ridden at lower air pressure without sacrificing performance! This brings significant advantages in comfort, but also significantly more control in critical situations.
Tubeless Systems provide very high puncture resistance. At the same time puncture protection liquid seal punctures within a few tenths of a second while riding. You can also use the Schwalbe Pro One with a normal tube, but its true strengths are experienced only in tubeless form.
Features & Benefits:
Super Race carcass (Souplesse construction)
Addix Race Compound
V-Guard puncture protection
Tubeless Easy is now possible for high-pressure tyres
Tubeless tyres for racing are now much lighter and faster than before
The future technology for cross and touring bikes
The integrated MicroSkin fabric takes on several important functions simultaneously. It ensures air tightness, guarantees reliable high-pressure stability and it improves cut resistance all around the tyre