Miche Primato Light 11 Speed Shimano Cassette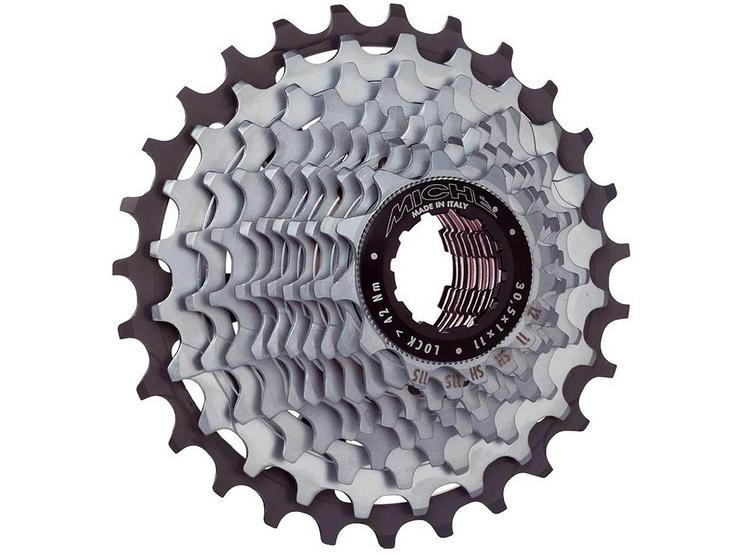 10 people are viewing now
5 purchases during last 48 hours
Miche Primato Light 11 Speed Shimano Cassette
Great and long lasting performance
Precise machining
Great pricing
Miche Primato Light 11 Speed Shimano Cassette
Features and Benefits:
Shimano compatible
11 speed
Steel first sprocket with matt finish chromed steel middle sprockets
Anodized last sprocket made of AL 7075-T6
AL 7075-T6 lock ring
Weight: 242g (12-25T)
The latest incarnation of the ever popular Miche Primato cassette, now available with a greater choice of sprockets.
The last position sprocket and lockring are made of AL7075-T6 Aluminium, giving reduced weight with greater strength. All middle sprockets are matt finish chromed steel.
Cassette sizes:
12-30T (12/13/14/15/17/19/21/23/25/27/30)
11-34T (11/12/13/15/17/19/21/24/27/30/34)
16-30T (16/17/18/19/20/21/22/23/25/27/30)
12-34T (12/13/14/15/17/19/21/24/27/30/34)
14-25T (14/15/16/17/18/19/20/21/22/23/25)
16-27T (16/17/18/19/20/21/22/23/24/25/27)
11-25T (11/12/13/14/15/16/17/19/21/23/25)
11-32T (11/12/13/14/16/18/20/22/25/28/32)
12-27T (12/13/14/15/16/17/19/21/23/25/27)
12-29T (12/13/14/15/16/17/19/21/23/26/29)
11-30T (11/12/13/14/15/17/19/21/24/27/30)