SRAM Force 22 11Spd Rear Derailleurs & Spares Derailleur Medium Cage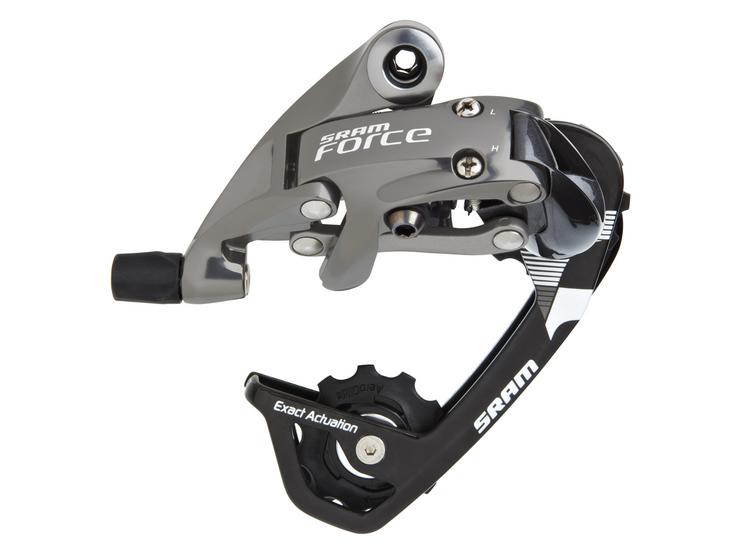 10 people are viewing now
5 purchases during last 48 hours
SRAM Force 22 11Spd Rear Derailleurs & Spares Derailleur Medium Cage
SRAM Force 22 11 Speed Rear Derailleur Medium Cage
With an actuation ratio that delivers precise 3mm shifts in every gear, the SRAM Force 22 11 Speed Rear Derailleur Medium Cage delivers the best 20-speed performance in the sport. Crafted with cutting-edge materials, including a unidirectional carbon-fibre outer mid cage and a magnesium inner link.
Technologies:
Exact Actuation
When we first introduced our racing bike technologies, we used our tried-and-true SRAM MTB 1 to 1 transmission ratio (spring travel gear shift cable rear derailleur movement). EXACT ACTUATION helps to achieve a simpler and more stable balance between rear derailleur suspension design, narrow sprocket gaps and precise tension. The result: the easiest index shifting system to set up—and it stays that way.
WiFLi = Wider - Faster - Lighter
SRAM's WiFLi technology is based on the SRAM Apex and Rival's compact 2x10 design, which has two chainrings at the front and ten gears at the rear. This results in a wider gear range than traditional triple chainrings and, thanks to the two chainrings and ten gears, allows for faster gear changes at a significantly lower weight. This is the company's latest technology that will revolutionise your riding experience.
Features & Benefits:
With WiFLi, the rear derailleur lengthens its cage and gets a slight variation in geometry to accommodate an 11-32 cassette
The new range of gears is wider than the standard triple chainring system and saves well over 250 grams
Widest range of adjustment available
Exact Actuation™ shifting provides fast, accurate shifts.
More clearance with 28t cassettes thanks to a longer B-knuckle.
Silent shifting with optimized Aeroglide Pulleys™.
Spring-fixed barrel adjuster.
Chain pulley cage adds precise chain management.
Tooth pulley design with a sound damping effect for a super-efficient and silent ride experience. Bottom and top pulleys benefit from this feature