Ergon GA2 Fat Grips, Midsummer Blue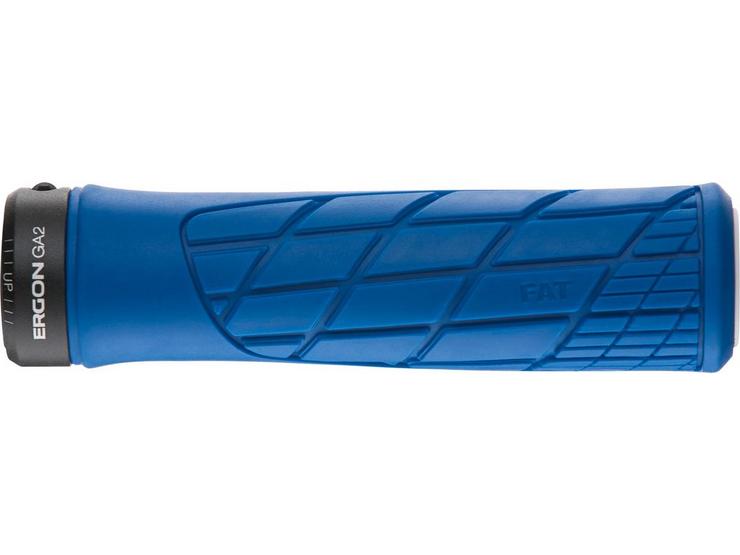 10 people are viewing now
5 purchases during last 48 hours
Ergon GA2 Fat Grips, Midsummer Blue
For large hands
Extra damping
Rubber made in Germany
Ergon GA2 Fat Grips
ERGON-PROGRAM: "Dear Ergon Team, why don't you try to make grips for my large hands?" – "Great grip, does it come in a bigger size?" You asked for it, we did it. Your feedback on our GA2 grip inspired us to create a thicker version.
INNER CLAMP: The internal aluminum clamp of the GA2 series leaves ample space for a wide gripping style.
INNER CORE: The wall thickness of the inner core is tapered, meaning it proceeds with different, precisely calculated diameters to optimize the damping comfort of the grips.
EXCLUSIVE QUALITY: The material used in Ergon grips meets the highest quality purity standards, is TÜV-certified, durable and absolutely unique in the world of cycling grips. Developed without filler and using medical grade white oil as the only plasticizer. The UV-resistant rubber compound has been developed and is manufactured exclusively for Ergon in Germany. Ergonomics, product design and engineering – all Made in Germany.
The GA2 Fat is the big brother of the popular GA2 all-mountain grip, and is a perfect solution for riders with larger hands or riders who simply prefer more grip in hand. The GA2 Fat also provides more cushioning, offering better control, more comfort, and therefore more riding fun!
Gripping ease
Ergon matches the demands of riders for more grip in hand for their GA series. The GA2 Fat not only benefits riders with larger hands, it's also a great grip for those who prefer more grip in hand. All of the benefits of the GA2 are achieved with the added benefits of a larger diameter and a greater ability to dampen vibrations. This allows the rider to lessen their gripping forces.
Nerve relief
When mountain biking, a good portion of the rider's pressure rests on the handlebars. Over time this can compress nerves within the hand and cause discomfort, pain or numbness. The design of the GA2 allows the rider to rest their hand in a wider position, counteracting the common discomforts of a tight, narrow grip.
Excellent grip
The priorities of high quality materials is one of Ergon's core values. The soft, durable and pure German rubber with specific texture layout offers a great deal of comfort and control on the bike. With an internal clamp, more space is available for a wider grip. The GA2 provides an ergonomic texture layout and vibration damping while reducing gripping strain.
Technical Specifications:
Clamp: Aluminium, Black Anodized
Material: Gravity Control Rubber
Weight: 135g
Use: All-Mountain/Trail, E-MTB, MTB-Touring, Cross-Country/Marathon
Colours: Black, Midsummer Blue or Risky Red