Prologo Scratch M5 Nack Saddle 140mm, Black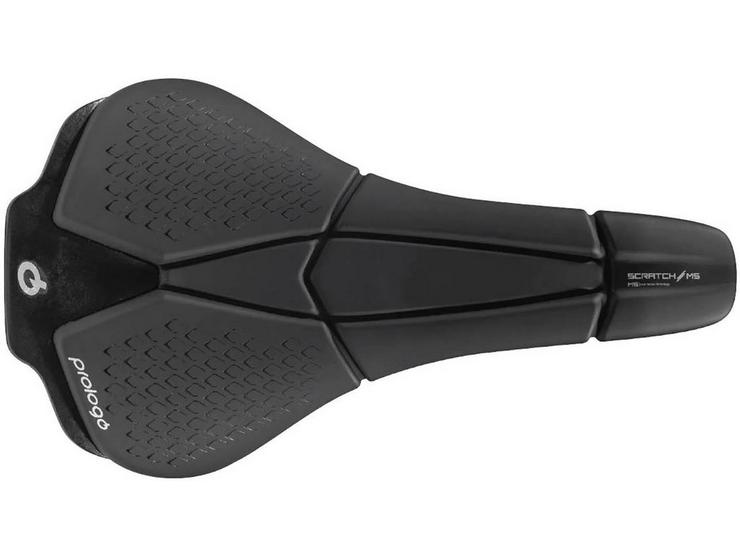 10 people are viewing now
5 purchases during last 48 hours
Prologo Scratch M5 Nack Saddle 140mm, Black
4 technologies for versatile performance
Multi Section Seating System
Nack Carbon Rail
Prologo Scratch M5 Nack Saddle
Size: 250x140mm
Rail: Nack Carbon
Cover: Microfibre
Padding: Light foam
Weight: 155g
Colour: Black
The Scratch M5 is one of the newer line of saddles that use 4.0 technologies; innovative in terms of size, shape and ergonomics, they are suitable for multiple uses and the CPC technology is used in Formula 1.
Thanks to the new "T SHAPE" design, size and ergonomics the M5 Scratch range is suitable for use by both men and women. The measurements are 250x140mm in width.
The MSS Multi Section seating system, designed in co-operation with the Politecnico of Milano, helps improve comfort and performance; the active foam separated to create 5 zones working in a smart and individual way favoring the natural movement of the pedaling movement. This absorbs the vibrations that the carbon fibre body transfers to the over-saddle. The Round Shape of the M5 creates stability and support for the lumbar areas; moreover the distribution of the pressures on a greater surface.
This saddle uses a Nack rail which is a monocoque carbon structure. Prologo's R&D department has engineered the clamping area by using a specific nano carbon fibre technology named BRC (Braided Carbon Rail) in order to support an extremely high level of stress when the seat clamp is tightened. The Nack rail is Prologo's top level rail combining unbeatable stiffness with extraordinary lightness